On January 11, 2023, a gala organized by Trends Tendances took place at Brussels Expo, marking the finale of the Manager of the Year 2022 competition. In attendence among more than 1,200  invited guests were the nominees for the title, as well as representatives from the Belgian government and leading businesses.
We are delighted to announce that the prize for Manager of the Year 2022 by Trends Tendances was awarded to Diane Govaerts, CEO of Ziegler by the Belgian Prime Minister, Alexander De Croo.
"I am honoured that we have won the Manager of the Year 2022 award by Trends Tendances, and also happy that Ziegler Group's commitment to sustainable development and the expansion of cutting-edge technologies has been recognised by such a distinguished panel. Thank you to everyone who has supported my leadership and contributed to our mutual success. This award is a testament to the hard work and dedication of our team, and I am proud to lead such a talented and driven group of professionals. Here's to continuing to work together and reaching even greater achievements," Diane said.
We would like to also express our congratulations to Rika Coppens, the winner of the parallel Flemish edition of the Trends Manager of the Year 2022 competition.
The Manager of the Year contest is a highly prestigious award with more than 35 years of tradition, and we are honored that Diane Govaerts has been recognized in this way for her outstanding leadership and management skills, as well as the opportunity to put the spotlight on an often overlooked but truly essential and innovative sector – transport and logistics.
Read more here:
Union Wallonne des Entreprises
Photo credits: Studio Dann
Chinese New Year is the festival that celebrates the beginning of a new year on the traditional Chinese lunisolar calendar and is the most important festival in China.
In 2023, the first day of the Chinese New Year (the year of the Rabbit) will fall on Sunday, January 22nd.
Chinese New Year celebrations traditionally last 16 days, starting from Chinese New Year's Eve through to the Lantern Festival. The first 7 days, from January 21st to January 27th are a public holiday, which can result in a disruption of supply chain flows between China and Europe.
However, with Ziegler Group's own branches in China and Hong Kong, we are able to secure the supply chain for our customers even during this holiday period.
Ziegler's offices in China and Hong Kong will be on-call to take over each other's duties to keep the movement of goods flowing as smoothly as possible for our customers.
For more detailed information, please get in touch with your Ziegler representative.
Do you know that 99% of everything you buy, consume, eat and drink was transported to you by emissions-generating combustion engines?
Most goods and food are not produced near your home. They need to be transported by vehicles with combustion engines to stores, depots, and even directly to your doorstep. At Ziegler, this is what we do – ensuring goods get to where they are needed. But combustion engines emit excess carbon, which is responsible for warming our climate by retaining heat in the air. We are architects for transport and logistics, but not 'engineers' who can invent low-emission engines or build stronger, lighter batteries.
But we are 'entrepreneurs', and as such we take our social responsibility seriously.
How seriously? Check it in our annual sustainability magazine, 2022 edition: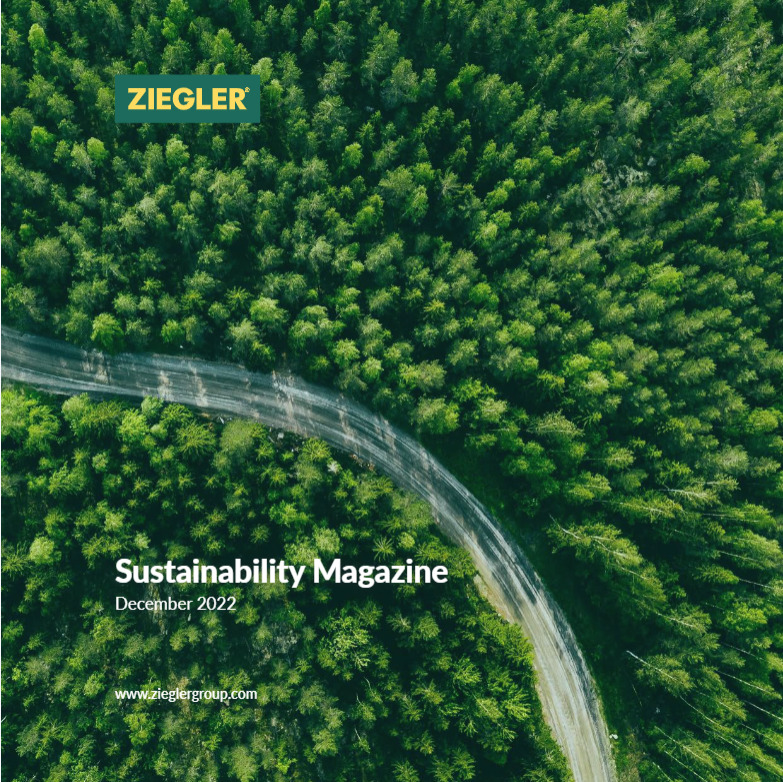 There's no better time than the festive season to express our warmest greetings and our best wishes.
The team at Ziegler Group wishes you peace, joy, and prosperity throughout the coming year of 2023. 
We would like to express our sincerest appreciation for the trust you have placed in us and wish you the very happiest and most peaceful time. May you look forward to a New Year full of wins and successes.
Automation is prevalent in warehouses and inland waterways, and in this video Tom Verkoelen (Continuous Improvement Officer from Ziegler Group) explains why autonomous road vehicles are the next area that the group is looking to make significant advancements.
The time has come to test autonomous vehicles on the road because the technology is ready to take the next step and adapt to our needs and help us solve problems like road congestion, air pollution, noise pollution, labour shortages and so much more!
Logistics is a very traditional sector, but that makes it all the more important to innovate and improve for a greener planet and better lives for all who live on it.
EN, FR & DE SUBTITLES ARE AVAILABLE. Click on settings ⚙️ to enable subtitles or change the language.
Dear customers and partners!
Now more than ever, supply chain faces challenges that must be met to keep your goods flowing to where they are needed in the most efficient and sustainable way possible.
The focus of all our activities is constant: our customers and partners and our relationships with you. We are convinced that together we can overcome all challenges.
Please check the message from Diane Govaerts, CEO of the Ziegler Group.
EN, FR, & DE SUBTITLES ARE AVAILABLE. Click on settings ⚙️ to enable subtitles or change the language.
As part of our sustainability mission, in October 2022, Ziegler Group's Headquarters facility in Brussels obtained the CO2-NEUTRAL "SITE" label. 
Valid for one year, the certificate was granted due to demonstrating that our site is "conscious of its CO2 emissions. By supporting a certified climate project we offset 565,6 tCO2e".
Granted by CO2logic, this certificate represents our efforts to be conscious of carbon emissions on-site. We are very proud to have earned this distinction, however, we don't plan to stop with simply offsetting our emissions. We demonstrated with other sustainability projects that we actively implement steps to reduce our own emissions – at the Brussels location and in all our company operations. This is a practical test and we will continue to evaluate alternatives (carbon compensation and other possibilities) for future offsets.
Ziegler Group's CEO, Diane Govaerts, has been nominated for the title of 'Manager of the Year 2022' by Trends Tendances magazine. 
Anyone who has met Diane knows that she is not looking for personal recognition. So for her,  this competition is above all an opportunity to showcase Ziegler Group and presents a unique opportunity to further develop existing relationships and build stronger partnerships for the benefit of our clients and partners. It is an opportunity to highlight the major challenges our industry is facing and Ziegler's efforts in these areas, such as the decarbonisation of our services, the digitalisation of our activities and promoting technological innovation in our sector.
In addition to showcasing our excellent company and employees, this nomination is an opportunity to encourage entrepreneurship among women in particular, and attract the best talent into our team to serve our clients and develop the best products and services. 
If you wish to help us promote these messages, you can support our nomination by
About the competition:
Five candidates are nominated

Voting will take place digitally from 7 to 23 November 2022

The results will be published on 11 January 2023.
According to AFTRI sources, the Russian government published regulation No. 1728 of September 30, 2022, prohibiting the performance of goods transport by foreign carriers or the transit through Russian territory by vehicles registered abroad.
The ban covers all types of road transport operations.
The countries that the ban applies to are EU member states, Norway, the UK, and Ukraine.
Zeebrugge is one of the few ports that can easily receive the largest container ships thanks to its deep water and advanced terminal facilities. With a range of deep-sea and short-sea distribution options, and a network of intermodal services to reach markets and distribution facilities in the port area, the site is a logistics hub that meets the requirements of a very diverse customer base. Since the merger of the port of Antwerp and Zeebrugge, the port has entered a new phase of development, investment, and growth.
This is one reason why Ziegler chose this port as the site for its new location.
A grand opening ceremony for the new Ziegler branch at Karveelstraat 16 was held on Wednesday, September 21, 2022, marking the beginning of a new phase of growth for the Ziegler Group in the port of Zeebrugge. The meeting was inaugurated by Mr. Alain Ziegler, President of the Ziegler Group, with an opening speech, followed by a speech by Minou Esquenet, responsible for climate and energy, environmental policy, smart city, and facilities management at the Zeebrugge district office.
The new 9,855-square-meter Ziegler Zeebrugge branch allows for the further development of the Ziegler Group's core business areas from this location. There is more than 3,500 m² of warehouse space in four buildings that are equipped with 8 gates, providing excellent opportunities for logistics and warehousing services for goods passing through the port.
The branch also provides an excellent base for ro/ro, freight to Ireland, and the UK unaccompanied. On the other side of the Channel, Ziegler UK is at the ready, both in the UK with 10 branches and in Ireland with locations in Dublin & Kilkenny.
The renovated facility meets the high sustainability standards of the Ziegler Group and its program "Ziegler. Now even Greener." It is equipped with 511 photovoltaic panels on the roof of three of the warehouses, which is enough to produce 90,000 KW per year. The building is also equipped with a rainwater storage tank with a capacity of 10,000 liters. Both the offices and warehouses have sustainable LED lighting. And there are ten car-charging stations.
We would like to thank everyone who attended the grand opening event and we welcome you to contact our specialists in Zeebrugge for your transport needs.
Ziegler Zeebrugge
Karveelstraat 16
8380 Zeebrugge
Belgium
Tel : +32 50 36 68 90
info_ziegler@zieglergroup.com