In this series of interviews that Ziegler is devoting to partners who support it in its urban logistics projects, Ziegler today gives the floor to Interparking, which is developing its vision of urban mobility that is both greener and more efficient.
Both Ziegler and Interparking are key players in urban mobility – one as a carrier and the other as a parking operator. Each has an essential role to play in relieving congestion in cities, improving urban mobility and promoting a peaceful city. So a partnership between the two was a natural result of that shared goal.
Use of the car and respect for the environment perfectly reconcilable
Interparking has been present for more than 60 years in the urban mobility sector in the heart of major European cities. Its teams facilitate more fluid travel in urban centers and their outskirts.
Interparking frees up public space. At any given moment, a full 30% of vehicles on the street are vehicles trying to park. So a car park with 500 spaces represents a queue of cars 2.5 kilometers long that has been taken off the streets. The construction of new car parks makes it possible to return public space to pedestrians and cyclists.
Using a car is also compatible with respect for the environment. The development of new innovative projects, which are growing in number daily, will make this more a reality than ever before: shared vehicles, connected and autonomous cars, hybrid and electric cars are the bridge to more sustainable mobility and will require an appropriate service offer.
Multimodality ahead
Interparking strongly believes that multimodality is an essential pillar of both greener and more efficient mobility. Most of its car parks are connected to other modes of transport: bus, tram, metro, train, bike rental stations, airports, etc. Its Pcard+ allows its customers to access its car parks, but also public transport networks and multiple ancillary services (such as electric charging). Each customer can thus flexibly combine several modes of transport to optimize their journeys.
Environmental responsibility also remains a major priority for Interparking. In addition to CO2 neutral certification in all nine countries where the group is present, Interparking is strengthening its activities in the fight against climate change, such as the program to plant mangroves in Benin in partnership with the independent design office CO2 Logic.
In terms of innovation, Interparking is the first Belgian company to have equipped its car parks with particle reduction systems in the Beffroi car park in Namur, Belgium. This device neutralizes 50 to 70% of particles, 40% of fine particles and 20% of ultrafine particles in suspension in the car park, resulting in cleaner air.
Ziegler and Interparking Launch a Last-Mile Logistics Microhub
In September 2021, Interparking and Ziegler launched the first micro-hub for Cargo Bikes at Parking Albertine, near Sablon in Brussels. Ziegler had previously initiated an experimental hub from its facility in Chaussée de Vilvorde for distribution throughout the city centre of Brussels. But to  be able to make more deliveries and be closer to the city centre, Interparking and Ziegler jointly launched the first micro-hub in the Albertine car park.
This "last mile" delivery solution combines three innovative aspectsto deliver large parcels throughout the centre of Brussels, while ensuring low or even zero CO2 emissions. For starters, an electric van transports goods from the main logistics hub to the Albertine car park microhub in the city centre. From there, Cargo Bikes transport packages to their final destinations. This service is not only greener, it is also more efficient. The Cargo Bike XXL makes up to 50 stops per day, while a conventional distribution truck only makes an average of 25 stops in the same time.
This service therefore solves two issues simultaneously: it makes it possible to 100% decarbonize delivery in the city centre while improving performance at the same time. Partnerships like this will be essential to our goal of  providing optimized and sustainable mobility.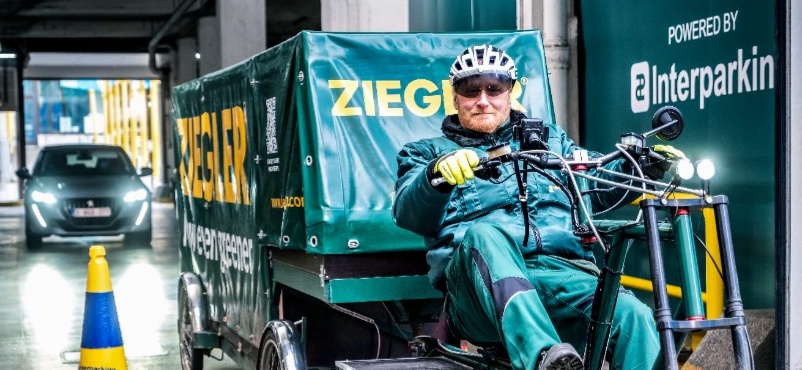 Support innovative projects
Maintaining regular dialogue with all stakeholders is essential to stimulate innovation, meet new societal needs and continue to grow in a highly competitive market. 
To imagine the mobility of tomorrow, Interparking constantly consults its institutional customers, daily road users, public authorities and local residents. At the same time, Interparking supports and is a member of several innovation-focused programs such as the PropTechlab in Brussels which promotes innovations in the field of construction and real estate, as well as the 19 coding school, among others.
Among the new services: last-mile delivery with Ziegler
Alongside its parking activities, Interparking is developing new services related to other parked car senarios: car-wash, electric charging, car-related services, urban farming, etc. 
It makes sense to include last-mile delivery logistics among these. With this first micro-hub as a pattern to follow, Interparking can roll out more micro-hubs to maximize space utilisation in its car parks while helping to relieve city centre congestion. Parking Albertine is just the first of many car parks that will be utilised  for this service in the coming future.
Soon, Interparking and Ziegler will launch similar microhubs in the Belgian cities of Bruges and Knokke. And while we're at it, why not abroad?
The future of urban mobility
The next few years promise to be exciting on the mobility front. Innovations regularly emerge to develop and encourage modes of travel that are ever more respectful of the environment. 
Someone who uses a car at one time during the day is often a pedestrian, cyclist or public transport user at other times of the day. Interparking facilitates this with activities and projects geared towards the use of electric vehicles and multimodality.
New technologies already are providing many solutions to climate challenges. Both Ziegler and Interparking are anticipating the arrival of a new generation of autonomous vehicles. These will represent a new challenge that the two partners will be proud to work through together, with the big picture goal always kept in mind – more efficient and responsible mobility in large cities and their surroundings.