How autonomous vehicles can solve city problems that have no current solutions.
EN, FR & NL SUBTITLES AVAILABLE. Click on settings ⚙️ to enable subtitles or change the language.
Cities are being stretched to breaking points with congestion, noise, and emissions. And there's little they can do about it because of the limitations of space and technology. But they are trying nonetheless.
Brussels is crafting plans for a future version of itself that reduces its environmental impact and makes its urban environments more healthy and enjoyable for people. And city logistics is an integral part of that plan.
In addition to many other initiatives to improve the sustainability of transport, Ziegler Group has two innovative last-mile delivery projects in Brussels that could reshape traditional transport while contributing in part to the dream that city planners envision.
"Last-mile deliveries are actually one of the hardest of the entire chain. Every package has its own best way of bringing it to the last person that needs it. So it's a very difficult challenge but it's one that's also very exciting because it has so many different opportunities and so many different solutions that you can implement," says Tom Verkoelen Continuous Improvement Officer of the Ziegler Group.
Ziegler's Cargo Bike project is already delivering packages more cleanly and quietly than traditional delivery trucks, and Ziegler has recently ordered electric autonomous delivery vehicles that will be tested with the cooperation of Brussel's city government and other agencies.
"Logistics is a vital pillar of economics and of our daily lives. But there is a lot of room to innovate and to try and make things better, that's really what we're trying to do with autonomous vehicles," he continues.
Autonomous delivery vehicles (AVs) could very well be one of the technological advancements that will usher in cleaner, quieter and healthier cities that provide a better quality of life to all residents and reduce our environmental impact.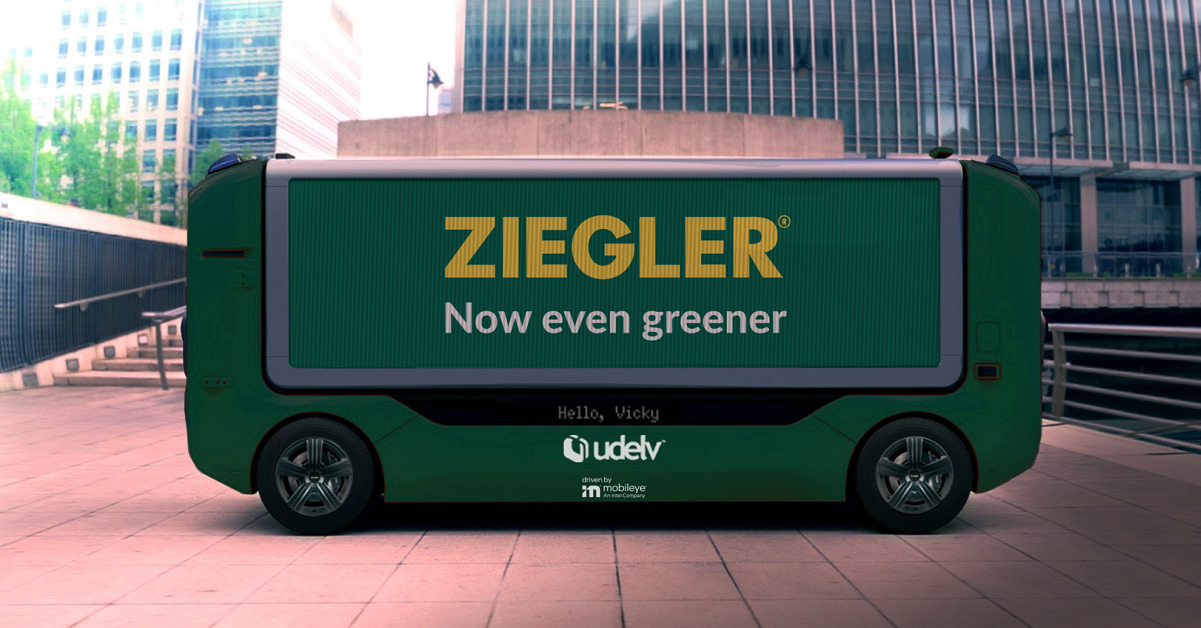 Ziegler believes this pivot will begin in the transport sector, and that the positive ripple effects will be significant in the long term.
AVs represent more than just self-driving cars. They are part of a broader shift away from congestion, pollution, and shrinking urban space. They represent an avenue to open up new possibilities for society, individuals and our environment.
This vision for the potential of AVs is reflected in Ziegler Group's own dedication to pursuing technology and practices that are more efficient and eco-friendly. This goal matches that of the city of Brussels, where new plans for a vibrant and clean city are being drawn up, and autonomous vehicles play a part in that.
"In Brussels, we really want to bring back the human factor with mobility. Design a city that is really made for people. Mobility can be a solution. Not focusing only on traffic going through but focusing on what people need to live and enjoy. To free up public space as well…" says Stefan Vandenhende, Advisor at Minister Elke Van den Brandt, Minister of the Brussels-Capital Region, responsible for Mobility, Public Works and Road Safety
"Autonomous vehicles have enormous potential in that field, and are part of the palette of solutions that we have for improving urban sustainable logistics. Autonomous vehicles could be one part of the puzzle of that solution," he continues.
How exactly can AVs have such an impact? Camille Callens, Environmental Advisor & Project Leader at Brussels Enterprises Commerce & Industry explains…
"The three big opportunities and challenges are pollution, congestion and labour markets. There is no noise because they are going to be electric and logically they would be able to drive at night. Because of noise, you can't drive at certain hours in Brussels which makes it very difficult for all kinds of companies and supermarkets. They find themselves restricted to peak hours which is very counterproductive. So that's also a big opportunity. Then an opportunity is also maybe regarding the labour markets, with the shortage of vehicle drivers. Autonomous vehicles would actually allow that problem to be solved." 
Electric vehicles that operate without drivers can operate in places and at times that current delivery vehicles are restricted. This will open up new opportunities where there are very limited solutions. 
Transport companies aren't the only ones who will benefit from fewer trucks on the roadways during rush hour. 
"Nobody likes to be in a traffic jam for hours… That will disappear with autonomous vehicles. That means we can use the time that we normally would put into those driving tasks," Prof. Dr. Lieselot Vanhaverbeke from the Vrije Universiteit Brussel notes.
"AVs can automatically route themselves, which will be a better use of the public infrastructure. Roads can be less congested if you put them in shared use systems. Fewer cars means a decrease in demand for physical space.  So in that sense, I think autonomous vehicles can certainly improve people's lives and the world," she explains.
But just because the potential for positive change is there, this doesn't mean that challenges with the maturity of the technology disappear. User acceptance and regulatory readiness are issues that must still be worked through. 
Yet this is why Ziegler Group is taking the long-term approach into account. 
"Logistics could improve [city living]. It's something we want to pursue and it's something that we believe in," Tom notes. "We can really look towards the future and really think outside of the box whilst not having to give up our client-centric approach," he said.
And it's up to companies to put these technologies into real-world use, and develop them into usable services so that all can benefit.
"Companies have a very important role to play to take these technologies and implement new products and new services that respond to needs. We need companies to build the solutions and scale them up to really have an impact on our region," Stefaan Sonck Thiebaut, Managing Director of Innoviris underlines.
"It always takes a couple of front-runners for technology to breakthrough, and hopefully Ziegler can be one of the front-runners. We appreciate that Ziegler is a family company from Brussels with both a global outlook and genuine care for what's happening locally. I have the feeling that it's at the core of Ziegler," Stefan Vandenhende says.