As part of promoting our full range of road freight services available, we've recently released an updated version of our Road Groupage Services Schedule.
This table clearly displays the countries and depots in each country together with the frequency of departures and transit times throughout the week and is testament to our growing efforts to provide each and every one of our customers with efficient transportation services. The transparency of this guide will enable you to plan ahead, ensuring your consignment reaches its destination on time and on budget.
To download a copy of one of our Road Groupage Services Schedules, click on one of the following links:
Ziegler London Gateway
Ziegler Tamworth
Ziegler Portsmouth
Ziegler Peterborough
Ziegler Northampton
Ziegler Newport
Ziegler Manchester
Ziegler Durham
Ziegler Bradford
Please note: departure days and transit times are based on our standard groupage services and subject to customs clearance. Departures may be cancelled or postponed due to reasons beyond our control. Part Load and Full Load services are also available with further information on request. Please contact us for a quotation which will be tailored to suit your service requirements and fulfil any specific delivery deadlines. Contact details can be found at the top of each of the Service Schedules.
At Ziegler, we understand that the world is changing, and we are committed to staying ahead of the curve. That's why we are constantly looking for new and innovative ways to serve our customers and employees better. One example of this is our pilot project of using drones in our warehouses for inventory management. By automating this process, we can save time and improve accuracy, all while reducing the risk associated with working at heights. We are also building digital systems providing end-to-end supply chain visibility, deploying autonomous vehicles, and investing in secure cloud-based solutions.
EN, FR & DE SUBTITLES ARE AVAILABLE. Click on settings ⚙️ to enable subtitles or change the language.
We are also dedicated to sustainability. As a company, we are dedicated to having last-mile delivery that is 100% CO2 neutral. This means that we use cargo bikes, electric vans, and soon autonomous vehicles to deliver packages into city centers, all while minimizing our carbon footprint. Additionally, our headquarters in Brussels is almost completely passive, with more than 1100 photovoltaic panels and the use of water from the canal for air conditioning and heating.
We believe that a commitment to sustainability is not only the right thing to do but also makes good business sense. Customers and employees alike are increasingly looking for companies that are environmentally responsible, and we are proud to be one of the leaders in our industry for sustainability.
We also know that our success depends on attracting and retaining the best talent. That's why we are focused on enhancing our employer image and promoting our workplace culture that is both dynamic and inclusive. We are launching the Ziegler Academy this year, which will provide opportunities for talent to learn, grow, and also to rotate between different countries to further develop their skills and experiences.
We find the transport and logistics industry fascinating. It is one of the fastest-growing sectors and is a direct reflection of the condition of the economy. We want to encourage young people to find fulfillment in this exciting industry and become champions for the industry to their communities. 
Public opinion on the idea of Autonomous Vehicles is mixed, as expected. However, this technological breakthrough has proven worthy due to its benefits to businesses, the public, and the environment. 
There are four key benefits of autonomous delivery:
Less Road Accidents
The top benefit of autonomous delivery is that it actually improves road safety. Some studies estimate that by implementing high levels of automation on the road, we are looking at a possibility of cutting down accidents by 80% by eliminating typical driver errors caused by negligence or recklessness. Which, according to Jean-Francois Gaillet, Chief Innovation Officer at Vias Institute, accounts for 90% of road accidents.
No Noise nor Traffic Jams
Forget about getting stuck in traffic because of a bunch of delivery vehicles during rush hours!
Autonomous mobility on roads, rail, and water will decongest the roads. Not only do these present more eco-friendly delivery options for consumers, but AVs can also make deliveries at night because of its noise-free electric motor. 
Fresher Air
Replacing traditional road transportation with electric AVs cuts down significantly on carbon emissions. Compared to human drivers, AV software can minimise energy consumption, contributing to a significant decrease in air pollution and promoting environmental recovery. 
Higher Workforce Value 
Automation removes driving tasks from the overall workflow and opens up new opportunities, time, and manpower to higher value tasks and responsibilities. This tasks include innovation and remote fleet operations. 
A Closer Look at the Zeigler Autonomous Delivery Vehicle  Project
In response to these concerns, Ziegler is pioneering autonomous delivery in Europe to aid in building healthier roads for EU cities. 
Ziegler, together with several organisations such as the Vias institute, Vrije Universiteit Brussel, BECI, the Ministry for Mobility, and the Department of Public Works and Traffic Safety of the Brussels-Capital Region will start closed-course testing to assess the efficiency of AVs in terms of production and ecological efficiency and prove its potential to the public. 
With Ziegler piloting this project, the entire AV project is deemed more credible due to the family business' genuine drive towards sustainability supported by vast experience in logistics in general.
As Stefan Vadenhende, Advisor and Minister or the Brussels Capital Region, says "the chances of success are then also a bit higher if you're not just living on this hype, but if you're actually really trying to do this from your core business, seeing how you can sustainably change your core business for the future."
The growth of international trade has been a major driving force behind the sea freight forwarding industry, leading to significant structural changes in the shipping industry since the end of World War II.
Historical background
The subprime crisis in 2008 led to a slowdown in global trade, causing a decline in sea freight transport growth and initiating a global economic crisis. This resulted in a collapse of demand for sea freight transport and freight rates, negatively impacting the profitability of shipping companies. As a result, the European Union revoked liner conferences that had been in operation for many years due to its opposition to rate agreements. This led to the creation of new agreements between shipowners called shipping alliances.
The health crisis
The subprime crisis in 2008 led to a slowdown in global trade, causing a decline in sea freight transport growth and initiating a global economic crisis. This resulted in a collapse of demand for sea freight transport and freight rates, negatively impacting the profitability of shipping companies. As a result, the European Union revoked liner conferences that had been in operation for many years due to its opposition to rate agreements. This led to the creation of new agreements between shipowners called shipping alliances.
The present day
The pandemic and geopolitical conflicts have led to a rise in raw material prices. This has caused many companies to order in bulk to reduce costs and prevent possible shortages. As a result, there is now an overstocking of goods and a decrease in demand for transportation. At the same time, we are witnessing a slowdown in world demand with a possible recession.
In 2023, new vessels are being introduced, and some older vessels are being withdrawn due to the need for shipping companies to bring their fleet into compliance with the new IMO 2023 regulations to reduce carbon emissions from international shipping.
The acceleration of the decarbonization of the fleet should lead to a reduction or even disappearance of the chartering offer, i.e., vessels chartered on an ad hoc basis to relieve port congestion. However, it will also lead to a reduction in capacity on the main shipping lines. To meet emission standards, ships will need to sail slower, which will require 10% more ships to transport the same amount of goods. This could drive up transportation prices even further. Rail transport is indicated as an effective alternative.
Learn more about the evolution of rates in sea freight from our e-book. 👇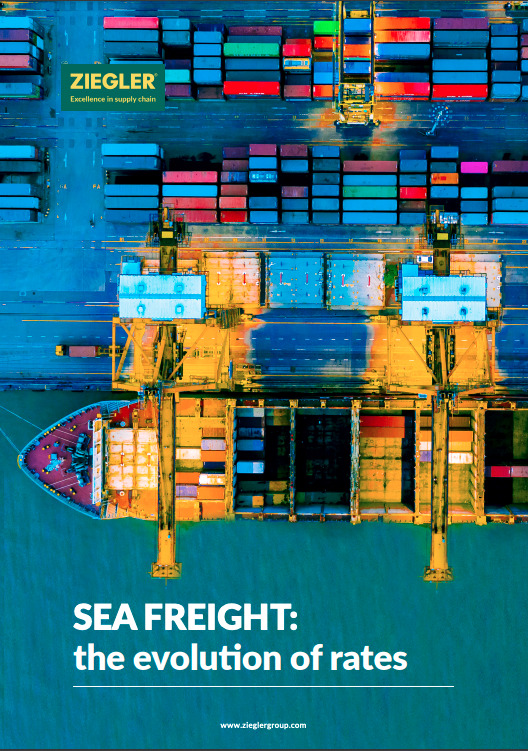 Today, we celebrate the beauty of our planet, raise awareness about the environmental challenges we face, and renew our commitment to protect it for future generations.
We are proud of our dedication to reducing our environmental impact. 
We are aware of transportation being a significant contributor to global greenhouse gas emissions, and as a transport company, we recognize our responsibility to reduce our environmental impact. That's why we have made a commitment to sustainability that includes reducing our carbon footprint, using alternative fuels, optimizing our routes, and strenghtening our modal shift expertise.
One of our top priorities is reducing our emissions. We have invested in alternative fuels and electric vehicles, which emit fewer pollutants than traditional diesel-powered trucks. We also optimize our routes to minimize the distance we travel and the emissions we produce. By using the latest technology and data analytics, we can plan the most efficient routes for our trucks, reducing our fuel consumption and emissions or offer alternative modes of transportation like train or barge.
In addition to reducing our emissions, we are committed to reducing waste and conserving resources. We have implemented a range of measures to reduce waste and recycle materials, from using reusable pallets to separating waste and energy saving at our facilities. We also work with our partners and suppliers to promote sustainable practices throughout our supply chain.
At the Ziegler Group, we believe that sustainability is  a core value that should guide our actions every day. That's why we are continually engaged in exploring new ways to reduce our environmental impact and promote sustainable practices throughout our industry.
This Earth Day, we invite you to join us in our commitment to sustainability. Whether it's recycling more, reducing your energy consumption, or choosing sustainable products and partners, every action counts. Together, we can make a positive impact on the planet and create a brighter future for all.
Managing customs procedures can be a complex and time-consuming process that can distract companies from their core business activities. 
That's why the question arises whether it's better to outsource these operations through subcontracting or implement an internal department to manage them in-house. 
There are pros and cons to both choices, and companies must weigh them before making a decision.
Insourcing Customs: The Challenges & Benefits
Taking customs procedures in-house is potentially more profitable, as it avoids the involvement of third parties. However, it can come with its own set of challenges. 
Companies need to consider the following:
Finding talent: Your company will have to find talent internally or hire someone who will require training on all the specifics of your company.
Investing in resources: You will need to invest in additional resources or facilities, thus increasing expenses (training, software, archiving).
Dealing with HR issues: You will need to deal with all HR issues internally (vacations/sick leave).
Staying compliant: You will be responsible for remaining up to date with new requirements of the European customs regulations, and ensuring your procedures are fully compliant.
However insourcing customs procedures can be more profitable for some companies, as it avoids the involvement of third parties, and once your internal team is built up, it allows your company to more quickly respond to changes in customer requests or industry conditions.
Outsourcing Customs: The Benefits & Disadvantages
Outsourcing your customs procedures offers many advantages that should be weighed against the challenges of insourcing. 
Outsourcing customs procedures offers five key advantages:
Focus on core business: By outsourcing customs procedures, companies can focus on their core business activities.
Consistent results and supply chain quality: Customs service providers have years of specialist knowledge, networks, and offer unavailable to private companies. They know the best practices in customs regulations and can avoid as much hassle as possible while thinking about future stability and flexibility of your supply chain when issues arise.
Control costs: The customs partner will scale their service appropriately to the customer's needs by providing rates that support their activities and goals.
Instant competence: Engaging the services of a specialized customs partner instantly provides companies with skills that are difficult to develop or provide otherwise. The customs partner can bring valuable know-how and be a source of operational optimization for the supply chain.
Increase operational flexibility: To adapt to the rules of a competitive market quickly and appropriately, the customs partner can assist companies to make these changes at the right time.
It should also be kept in mind that the relationship must be grown and maintained, which should be a win-win, but can also be a point where issues can develop.
These need to be weighed against your situation and goals.
Why Choose Ziegler for Customs Solutions?
If companies want to outsource customs procedures, they need a reliable and experienced partner that can ensure custom solutions that match their needs. 
Ziegler Group is an international transport and logistics company that offers specialized customs solutions. Our customs experts can work across many countries at once and are organized in interconnected customs support teams to offer the best service quality. 
Ziegler's customs experts are constantly monitoring the evolution of customs regulations and best practices, so we can provide companies with the best regulatory solutions at any given point in time as the world continues to change.
Conclusion
While insourcing customs procedures might seem more profitable at an initial glance, it comes with its own set of challenges. Outsourcing customs procedures, on the other hand, offers many benefits such as focusing on core business activities, consistent results, control costs, instant competence, and increased operational flexibility. If companies choose to outsource customs procedures, they need a reliable partner that can provide custom solutions that match their needs. Ziegler Group's experienced and passionate international team and global network can help your company navigate complex customs regulations and provide the best possible solutions.
As we move towards a greener tomorrow, technology has made it possible to develop environmentally friendly shipping options for both consumers and transport companies – solutions that reduce our carbon footprint while maintaining high productivity levels simultaneously.
Challenges remain, but the benefits to both the end customer and the environment outweigh the hassle, and it will only get easier as companies help lead the way.
To help mitigate rapid climate changes, the EU has implemented sustainable transport policies as an obligation, and logistic companies now face heavier public demand for sustainable options. 
To improve sustainability in the shipping industry, companies are now taking the lead in offering solutions that comply with new environmental regulations without reducing profit.
Many new eco-friendly technologies are becoming available for logistics companies at present, and Ziegler is already taking the necessary steps towards this goal with the "Ziegler. Now even greener" program.
Here are three ways we are doing that:
Optimising customer supply chains with more efficient, fast and ecologically-responsible transport solutions.

Reducing our energy dependence with solar panels in our facilities and other programmes to reduce our electrical usage.

Reducing our emissions by implementing electric delivery vehicles, biodiesels, eco-driving software on our trucks, and much more.
These changes can be challenging at first, as they require altering the status quo and asking our customers to take the leap with us. 
But the benefits are already being felt.
Lessening our carbon footprint, fossil fuel and energy consumption, acts to improve compliance with sustainable transport policy and guidelines, while transforming our business into an environmentally-conscious corporation.

A well-developed sustainable management system attracts stakeholders who prefer eco-friendly transport solutions. Sustainability becomes our unique edge among competitors who lag in compliance and innovation.

Sustainable transportation optimises logistic operations. Current innovations offer numerous tools and features that increase fleet efficiency. This includes software that tracks fuel efficiency, driving performance and more.
Sustainability is coming to the transport industry. Ziegler Group is determined to be ahead of the pack.
Why now is the best time to invest in Autonomous Delivery
There's no better time than the present to begin implementing autonomous vehicles (AVs) as part of the solution to many challenging problems that cities face. 
Not only is the need greater than ever before, but also this generation's environmental awareness level and the availability of new technologies make materializing this vision feasible at last. 
Here's how.
The world now has better opportunities for AVs
As the demand for road mobility increases, congestion and pollution have become major problems for European cities. According to Annelies Develtree, Knowledge Group Manager of Vias Institute, approximately 16,000 trucks and 26,000 vans enter and leave Brussels daily, and those numbers are only expected to increase. 
These compounding issues require innovative and unconventional solutions – solutions that citizens are then more open to if they can really make a difference, such as autonomous delivery. 
Even though some unknowns still exist and market acceptance will need time, if AVs can prove their safety and demonstrate their benefits, acceptance will swiftly follow.
AVs can now identify the most efficient delivery routes, troubleshoot mobility issues, and maintain safety even with minimal human supervision. 
Automation isn't just about self-driving, but it's now about taking a leap away from pollution and congestion while actually increasing productivity. 
Various Belgian road safety and knowledge groups are collaborating toward a carbon-neutral society by 2050, and electric AVs will contribute massively to successfully reaching this goal.
Current AV technology is becoming available that will allow for smoother implementation of AVs on roadways and maintenance when needed. 
Brexit has made importing and exporting goods between the UK and Europe more complicated than ever before. In this article, we explore how the Ziegler Group uses its know-how, experience, and international internal network to support our customers in importing to and exporting from the UK, reducing their costs and increasing competitiveness. 
One of the major challenges that have arisen since Brexit is Import procedure 42, which is a VAT-exempt supply in the EU. This regulation allows for goods to be imported into the European Union and exported to the UK while avoiding VAT payments. However, this is not an easy process and requires expertise in international shipping and customs regulations.
Thanks to our international network of customs and compliance experts and internal cooperation, Ziegler Group has introduced a streamlined procedure for navigating this complex landscape by advising our customers on how to use regime 42 to clear goods through Belgium before being transported to their final destination. By doing so, customers can reduce the amount of VAT payable when exporting between their UK and EU entities, which allows them to become more competitive against EU competitors.
This solution also benefits the exporter as they become the importer using their EU details, eliminating the need for EU receivers to complete POA's. This makes the selling conversation between customers more attractive as many EU buyers were unfamiliar with the requirements of importing from the UK.
The Ziegler Group works with dedicated vehicle solutions to ensure full control and visibility of the movement from the UK to Belgium, and then clearing customs. This enables our customers to offer a DDP* option and offset VAT payments.
Additionally, we utilise our road freight network to move goods to Belgium and then onto the final EU destination country. Zielger's customers have successfully started using a combination of the above solutions.
Congratulations to Ziegler Newport and the entire Ziegler UK team for seamlessly implementing the new procedure for our customers, which demonstrates our unwavering commitment to customer satisfaction in the face of diverse transportation challenges.
If you need help with import/export between the EU and the UK, just contact us. 
Ziegler.Southwest@zieglergroup.com
+44 (0) 1633 493050
*Delivered Duty Paid (DDP) is a term used in international shipping that means the seller is responsible for all costs and risks associated with transporting goods to the buyer's destination. This includes customs duties, taxes, and other fees. DDP INCO terms are used to specify who is responsible for paying these costs in a given transaction.
The transport and logistics sector is no longer confined to being a man's industry and Ziegler Group is one of the companies leading this change with our talent and competence-based approach to employment that is providing more jobs for women than is the norm for our industry.
International Women's Day is an important occasion to recognize and celebrate the contributions of women across all industries, and especially in industries that traditionally provided few opportunities for women. 
The Ziegler Group is proud to be an employer that recognizes talent, potential, and competence in its team above all. We stand out in our industry with a growing number of women employed and holding management positions. This is not the result of some deliberate gender-based hiring strategy, but rather the natural outcome of our competence-based approach of hiring whoever is the best match for the job!
And the truth is best told in numbers…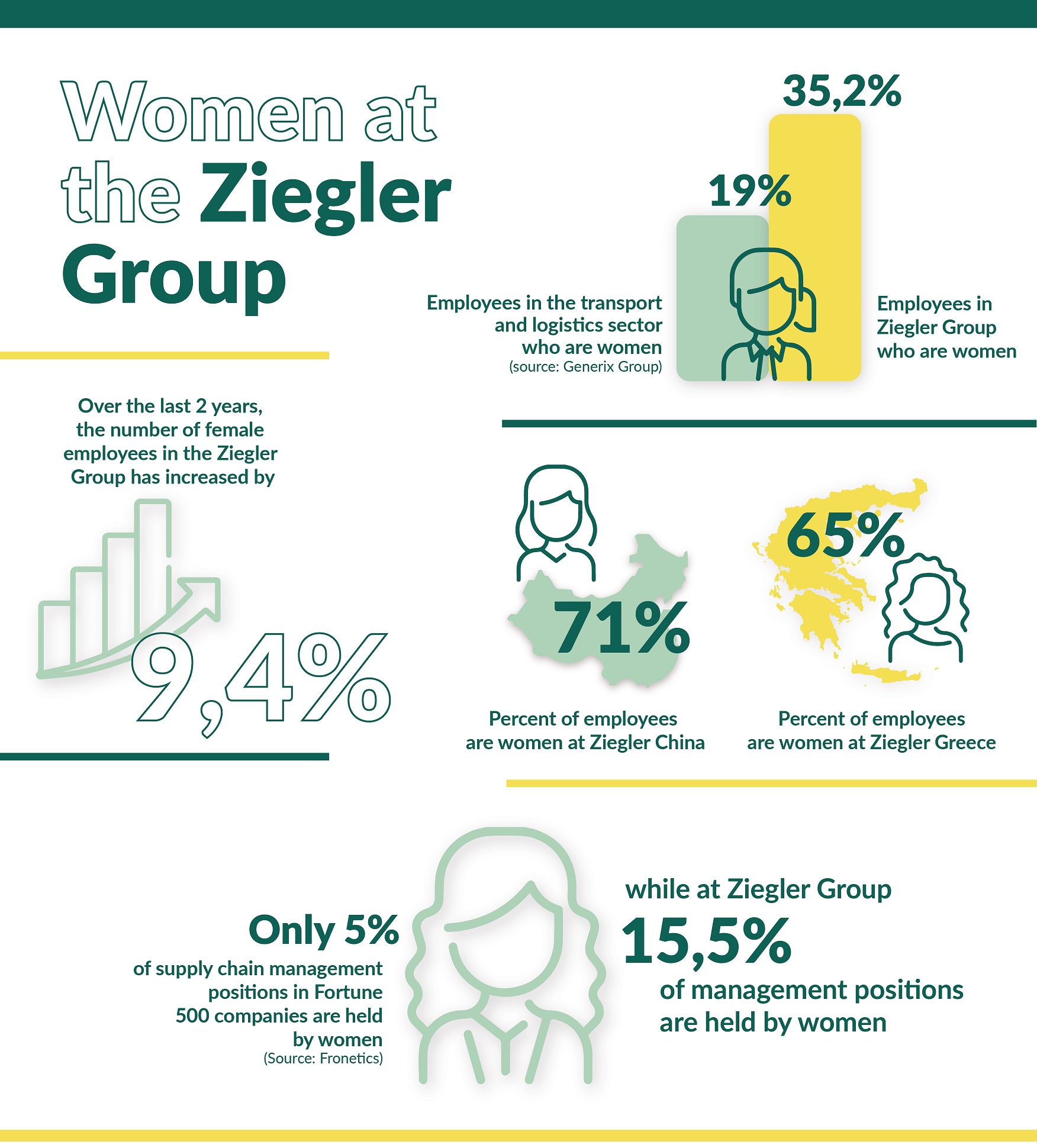 According to publicly available data, women comprise only 19% of employees in the transport and logistics industry. However, at the Ziegler Group, women make up 35.2% of employees. In many countries where we operate, such as Hong Kong, China, Greece, and Tunisia, women comprise most of staff and management. For instance, in Ziegler China, 71% of employees are women, while in Ziegler Greece, 65% of employees are women.
In just the past two years, the number of women working at the Ziegler Group has increased by 9.4%. Most of these women work in administrative, operational, and sales positions, and many hold management positions. At the Ziegler Group, 15.5% of management positions are held by women (including our CEO!) This is in stark contrast to the Fortune 500 list, where 95% of management positions in the supply chain are held by men. 
This commitment of promoting employees, regardless of gender, into leadership roles has allowed us to achieve a competitive edge in the industry.
At the Ziegler Group, we recognize the importance of creating a workplace culture that is inclusive, supportive, and empowering for everyone. We believe that the best way to achieve this is by recognizing and promoting talent, regardless of gender. And we will continue to do so! 
Happy International Women's Day!
Statistics provided by The Ziegler Group, Generix Group and Fronetics.