With the support of our long-term banking partner BNP Paribas Fortis, we have made one more step forward in the transition to sustainability and recently moved to our new environmental friendly headquarters, proving that even in the transport industry, which is seen as not very eco-friendly, Ziegler takes many actions to save our planet.
" (…) «The sustainability aspect of the new building was thought out down to the smallest details», explains Diane Govaerts. Photovoltaic panels, rainwater collectors, heat pumps, techniques for reducing power consumption, and so on. The new HQ is Ziegler's showcase in terms of sustainable development and perfectly embodies the company's policies in this field (…)"
&nbsp
Brexit is going to bring some changes to your organization soon. Ziegler's expert groups in the UK and Europe have worked their best to minimize Brexit related disruption to logistics networks. As international specialists, we want to support you in this transition. Therefore, to prepare and support you in this transformation, we provide a non-exhaustive list which includes the formalities to be done to limit the impact of Brexit on your business.
Check:
If any product restrictions apply in Great Britain or the EU countries you send to –> check here
If additional licenses or certifications are needed for your products –> check here
If any special export control requirements apply to your products –> check here
If your UK VAT number is valid and the option to defer VAT posting
Learn:
What is the commodity code (HS code/harmonized system) of your product and remember to indicate it on your invoice and the electronic transmission –> learn more
Make sure:
You provide a complete and accurate commercial or proforma invoice
You applied for an EORI number (for EU and UK) if you don't have one yet
You set up a UK deferral account for import duties and VAT
We are on your call and will be happy to help you go through the formalities related to Brexit. We are looking forward to continuing our cooperation and being able to support your export efforts and guide you through the unknown of Brexit.
The following materials may be also helpful:
How to export goods from GB into the EU
How to import goods from the EU into GB
A new milestone for the development of Ziegler at Brussels Airport
Ziegler Zaventem and Universal Express moved to the new site on October 1, 2020. This modern office-warehouse dual building has a warehouse of 4000 m2 and is equipped with racks for ca. 2750 pallet positions. The building complies with the highest level environmental norms and provide an ergonomic working place for our team. The building is located at Brussels Airport and linked with European backbone motorways and pan-european rail network, thus providing ideal conditions for intermodal transportation and logistics.
The staff of Ziegler Zaventem and Universal Express are looking forward to welcoming you in the new building.
Address:
Ziegler NV / SA
Vliegveld 747C
1820 Steenokkerzeel
Belgium
Google maps:

ZIEGLER Relocation, a former division of the ZIEGLER Group, which was acquired by the Demeco Group in 2018 has gone out of business in Belgium this 17 August of 2020. This company has since the sale no link with the ZIEGLER Group. Our thoughts go out to our formal employees.
The Ziegler Tours office relies on the group's synergies to develop its vision of an efficient and responsive customer service. The agency is now looking to expand its team in order to back up the growth of its activities.
How can an agency grow while making a difference on a competitive and established market? That task belongs to Sonia Vinçon, branch manager of Ziegler Tours since February 2019. She's tackling it with dynamism and pragmatism – values she got from her years as a charterer.
Her priority is customer satisfaction, more precisely problem resolution and the treatment of urgent requests. 'Our clients don't want to waste their time waiting for their correspondent to pick up the phone. This is why we do our maximum to ensure them reliability and an optimal reactivity', Sonia Vinçon explains.
The manager of Ziegler Tours can rely on other Ziegler agencies to maintain this quality of service and to keep expanding the agency. As a matter of fact, the other agencies help her absorb unexpected peaks in activity and offer assistance on the commercial side.
'If we need help to organise a transport, we know we can count on our colleagues in Bordeaux', Sonia Vinçon explains. Far from being only calls for back up, these regular exchanges encourage feedback. 'We're trying to create added value in our trucking services for example, which is hard to make profits from. This is why it is interesting to compare our methodology with the other agencies", she illustrates.
In order to expand its activities, the Ziegler Tours agency is now recruiting a new charterer, before maybe hiring an overseas specialist.
'Many companies in the region wish to have only one negotiating partner for courier and chartering. We need to take this into account while still staying close to our clients. It is this proximity that brings us back clients who left for our competitors. This is one of the advantages of being a small agency within a bigger group', Sonia Vinçon says.
Roadtraffic  Europe – our summer timetable July – August 2020
Guillaume Pinel is taking over Quentin Grandière's place as manager of the two Ziegler offices in Bordeaux. His mission: keep developing the offices and prepare the construction of the warehouse, which will soon bring the two offices together.
At only 40, Guillaume Pinel already has 20 years of experience in the transportation sector. He started in operations and gradually took on new responsibilities, until he became manager and steered the creation of new branches. By the end of 2019, he joined the Ziegler Group to take charge of the two offices in Bordeaux.
The first office, more transport orientated, offers transport and logistics services. The second one, called Ziegler Wine & Spirits, is more specifically turned to wine professionals.
"I'm really proud to see that our teams' investment allows us to insure the quality of service our clients expect from us", says Guillaume Pinel, whose mission now consists in writing the next page of Ziegler's expansion in the region.
Focus on a new warehouse
Guillaume Pinel will prepare the transfer of both agencies into a new warehouse which construction will soon take place.
The project was launched by Quentin Grandière, now Regional Executive Manager, and will provide a building with more than 12 000 square meters of usable area. It will follow all of the latest safety, accessibility and temperature control standards.
The two branches will be pooled together, with unified tools and procedures. Apart from the synergies, the new manager sees real opportunities to improve the quality of information processing while facilitating internal staff mobility.
"The diversity of our activities already brings out enriching exchanges between specialists in logistics, transport and customs. With the merge of our two sites, we will be able to go even further, in a real logic of career development", adds Guillaume Pinel.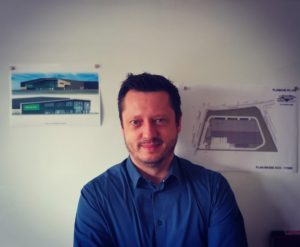 A global network with local expertise: in South Africa, it is currently becoming clear how successfully we are establishing a logistics structure for our customers at ZIEGLER, an international forwarding company. We have branches in all major cities in the Republic which is home to the "Cape of Good Hope". At the same time, the ZIEGLER Group connects the country to global markets and the many other ZIEGLER locations.
In this edition, you can find out more about this lovely country, which is full of zest for life and is located right in the south of Africa, from the perspective of logistics.
The coronavirus pandemic has had a significant impact on the manufacturing economy and trade. The ZIEGLER teams are doing everything they can to maintain the supply chains, transportation services and delivery dates.
We are there for you!
Thorsten Witt
CEO – Ziegler Switzerland & Germany
---
Previous editions:
2019
2018
2017
In an interview given to the Belgian daily newspaper La Libre, the President and the CEO underlined the commitment of Ziegler Group to support the post-covid-19 global business recovery and sustainable development.
-Subtitles available-

The new facility spanning 95,000 sq ft, comprises of three floors of office space and a modern warehouse reaching 12.5 metres in height. There are 17 loading doors and a large yard area spanning over 50 metres in depth, with parking for over 30 trailers. This facility is built at the DP World Logistics Park, adjacent to the UK's newest deep sea port at London Gateway in Essex.
We are proud to also confirm that the building is the first on the park to obtain a 'BREEAM OUTSTANDING' rating, meaning it meets the world's leading sustainability standards for the built environment.
Ziegler UK Ltd will offer its customers a range of value-added services from its London-centric logistics hub, handling import and export consignments, facilitating customs processes and deconsolidation of goods, providing an all-encompassing supply chain service that matches ever-evolving global market demands.
The move represents further expansion for Ziegler UK who now operate in 17 locations throughout the UK & Ireland, making it possible to offer a responsive and flexible local service across all aspects of the supply chain.
Lee Marshall, Managing Director of Ziegler UK, said: "Ziegler is committed to meeting its customers' expectations at a local and regional level by offering the most responsive, agile and reliable logistics service from factory to point of sale. Our newest 'best in class' building at DP World London Gateway's Logistics Park is in an unrivalled location, not only right beside DP World's state-of-the-art deep sea port and rail network but in close proximity to London, the South East and all major access roads. This will allow us to continue to facilitate the fast global flow of goods, be a more agile and reliable supply chain in the future, save our clients money, while also ensuring a more sustainable supply chain that reduces carbon emissions and protects the environment."