Manufacturers of chemicals and other goods that are considered dangerous during transport need to pay extra attention to comply with all safety standards and exercise great care in their operations for social, environmental and business reasons. We understand that outsourcing this part of the business process can be particularly stressful.
Choosing a dangerous goods supply chain partner is challenging. You want to be sure that your partner is trustworthy and experienced, that the highest safety standards are as much their highest priority as they are for you, and that you can count on their support and expert advice at every stage.
Ziegler has over 30 years of experience in the transport of dangerous goods and has a network of experts in this field. Three of them – Bruno Fangon, Safety Expert at Ziegler France, Luc Van Rompaey, Dangerous Goods Safety Adviser at Ziegler Belgium, and Raphael Lang, Quality and Environment Officer at Ziegler Switzerland and Germany – explain how to transport dangerous goods and what cannot be overlooked in the process.
What goods are classified as dangerous (ADR, regulated hazardous products)?
We should start with the terminology.
ADR stands for "Accord européén relatif au transport international des marchandises dangereuses par route" and refers to the international transport of dangerous goods by road.
The IMDG Code is the international guidelines for the safe transport or shipment of hazardous materials by water.
IATA (International Air Transport Association) Dangerous Goods Regulations are used to ensure the safe transport of dangerous goods by air.
And RID applies to the international carriage of dangerous goods by rail.
For simplicity's sake, we will use 'regulations' to refer to all the above.
Substances which (even in limited quantities) can cause serious damage or nuisance to humans, animals, materials and/or the environment during transport are defined as dangerous goods. They are classified this way, whether they can be hazardous alone or by coming into contact with another substance.
Dangerous goods are divided into classes based on the type of hazard they present. These classifications are made based on the physical properties of the substance. If a substance has several hazardous properties, it is assigned to the class that presents the most significant danger during transport.
The following classes occur:
class 1 : explosives
class 2 : gases
class 2.1 : flammable gases
class 2.2 : non-flammable, non toxic gases
class 2.3 : toxic gases
class 3 : flammable liquids
class 4 : flammable solids; substances liable to spontaneous combustion; substances which, in contact with water, emit flammable gases
class 4.1 : flammable solids, self-reactive substances, solid desensitized explosives and polymerizing substances
class 4.2 : substances liable to spontaneous combustion
class 4.3 : substances which, in contact with water, emit flammable gases
class 5 : oxidizing substances and organic peroxides
class 5.1 : oxidizing substances
class 5.2 : organic peroxides
class 6 : toxic and infectious substances
class 6.1 : toxic substances
class 6.2 : infectious substances
class 7 : radioactive material
class 8 : corrosive substances
class 9 : miscellaneous dangerous substances and articles
It is important to remember that the classes' numerical order is not a reflection of the hazard's degree of severity.
A Ziegler expert will always help you make sure that your transport is carried out under optimum safety conditions and in compliance with regulations, based on the information contained in the Safety Data Sheet.
What types of dangerous goods can be transported and which cannot?
Ziegler can transport many dangerous goods including flammable liquids and solid, spontaneously flammable material or similar materials that give off flammable gases when in contact with water. We can also transport oxidizing materials (e.g. fertilizers), organic peroxide, toxic materials, corrosive goods such as acids or miscellaneous dangerous materials and objects, e.g. lithium cells and batteries.
Can each type of dangerous goods be transported by each freight type (sea, air, road, rail)?
We can globally transport dangerous goods by any type of cargo depending on customer expectations and needs, with respect to the specific requirements that exist for certain modes of transport.
When it comes to the transportation and storage of hazardous products, how well is Ziegler prepared for safety?
Ziegler is an expert in the transportation of dangerous goods. We know that in the transport of ​​regulated hazardous products, no margin of error is allowed.
We make every effort to comply with all laws and regulations regarding the transport of dangerous goods in any mode of transport and during temporary storage and transhipment. Each driver who comes into contact with hazardous materials always has up-to-date ADR training. Employees of operational, commercial and other departments are also trained in it.
Ziegler's vehicles are equipped to transport hazardous materials, are compliant with related regulations, and are subject to periodic inspections. Our Dangerous Goods Safety Advisors prepare an annual report on the company's performance in this area for our management and local public authorities.  SQAS (Safety & Quality Assessment for Sustainability) assessments have been carried out at several of our sites.  SQAS is a system of uniform assessments conducted by third parties to evaluate the performance of logistics service providers and chemical distributors. SQAS assessments cover quality, safety, security, environment and CSR (Corporate Social Responsibility) and is coordinated by the CEFIC (European Chemical Industry Council).
Last, but definitely not least, is our IT support, which is designed to support our stringent safety measures. Our system guarantees notifications for prohibited products, has an automatic monitoring system, alerts, products nomenclature and route notes creating options.
When it comes to storage, different regulations apply to the storage of dangerous goods than to transport [The Regulation (EC) No 1272/2008 on the classification, labelling and packaging of substances and mixtures (CLP Regulation)].
Products that are subject to CLP regulations can be stored in several of our units.  In Belgium, for example, we even have a Seveso high-level warehouse. The Seveso Directive aims to prevent, prepare for and respond to accidents involving hazardous substances in the EU industry.
Our high standards minimize environmental risk and maximize safety and efficiency.
How do we support customers in the process of warehousing and transporting of hazardous materials?
According to the laws and regulations, it is worth knowing that the sender has to confirm that the dangerous goods are correctly classified and approved for transport to make sure that they are properly packed and identified to prepare the necessary declarations, etc.
However, we realize that many of our clients need our support throughout the process, and want a partner who can handle the hazardous goods turnover process from A to Z. We have experience in the end-to-end supply chain management of dangerous goods, from packaging, storage, preparation of the necessary documentation, customs formalities, to transport and delivery. You can count on our experience and expertise in this area.
Contact your Ziegler consultant or find your local Ziegler contact to find out more.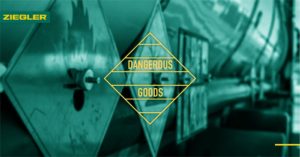 Running a business in the fashion industry is a considerable challenge, and success in this industry often depends on a good understanding of its specifics and the ability to adapt to its needs. The same applies to the business partners you choose to support you in this industry. High and diverse customer expectations, frequently changing needs, seasonality, assortment diversity, and the need to respond flexibly to market demands should all be well understood by fashion business partners.
Our aim as a supply chain partner for the fashion industry is to take as many duties off the customer as possible so that they can concentrate on their core business and rely on us not only for transport and logistics but also for many other additional supply chain services.
Besides our standard services for all types of custom transport, warehousing, customs formalities, and so on, we also offer a whole range of additional services that support unique fashion industry demands.
These value-added services can include:
• Unpacking goods, attaching hangers, and placing in the correct arrangement on hanging racks or shelves
• Labeling and tagging
• Applying an alarm button to each item of clothing
• Kitting
• Preparation of size packs in foil sleeves
And many other tasks depending on our customers' needs.
We also offer additional services for high-value fashion products. These can include but are not limited to securing products with silk paper, extra shipment security, adding labels to packages, and any other added-value our customer requires.
Our team has a wealth of supply chain experience and understands this market's needs and characteristics, so we can offer you a service perfectly suited to your needs. We aim to provide you with the kind of support that will enable you to focus on your business and rely entirely on us for all of your supply chain needs.
Contact a Ziegler fashion supply chain specialist and find out how we can support you in your business.
Ziegler was founded 113 years ago in Brussels, Belgium. Since then, a lot has changed. The company has grown and developed. Ziegler now has branches in more than 15 countries. Belgium, however, is still where the headquarters is located as well as the operational activities of several branches.
Learn more about the characteristics and specialization of some of the Ziegler branches in Belgium.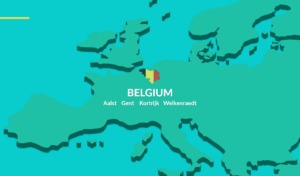 Ziegler Aalst
Ziegler Aalst serves customers in a wide variety of industries including fashion, food, automotive and technical industries. It also helps with transporting goods such as textiles, food, clothing, lingerie, and wine on a daily basis. They transport goods mainly between southern Europe and Belgium. You can count on their daily arrivals and departures in Spain and Italy and at least two departures a week to Portugal and Greece. Ziegler Aalst has its own fleet of 50 trucks which are all equipped with loading ramps.
The wide variety of customer industries served by this branch has resulted in a high level of flexibility in the ability to adapt the warehousing conditions to the needs of each customer.
Contact:
Wijngaardveld 3
9300 Aalst
+32 053 / 78.71.72
jean-pierre_caignau@zieglergroup.com
Ziegler Kortrijk
Ziegler Kortrijk is known for their daily shipments for groupage, FTL, and LTL to France, Switzerland, and Italy thanks to a combination of direct back and forth transports and an extensive network of freight correspondents.
They cooperate with companies in a wide variety of industries, from heavy industrial machinery, general machinery, and machine parts for medical equipment, through to wood, glass, construction, and textile products. They also have extensive experience in transporting chemicals and hazardous materials as well as storage and full logistics services of these products. The warehousing solutions are always tailored to the needs of the product and the customer.
Contact:
Transportcentrum LAR – Blok B1
8930 Menen-Rekkem
+32 56 / 43.12.20
ziegler_kortrijk@zieglergroup.com
Ziegler Gent
Besides regular departures to Eastern Europe and Scandinavia, Ziegler Gent has the most frequent transport operations with the UK and Ireland, which is still true in 2021. Even now after Brexit you can benefit from their daily road departures to the UK and export/import for groupage, LTL, and FTL.
Ziegler Gent is equally experienced in the transportation and storage of harmless and dangerous chemicals, machinery, textiles, and medical devices.
They also offer dedicated supply chain solutions for their partners.
Contact:
Wiedauwkaai 7
9000 Gent
+32 09 / 264.08.11
Ziegler Welkenraedt
Ziegler Welkenraedt specializes in supply chain management for companies mainly in the construction, manufacturing, clothing, and automotive industries. They transport nearly all types of goods with the exception of chemicals and dangerous goods. Their own fleet, including special vehicles such as carriers and seedlings with tailgates, and almost a hundred employees at the branch enable them to offer daily departures for groupage, LTL, and FTL within Belgium and to other European countries.
Contact:
rue Mitoyenne 897
4840 Welkenreedt
+32 087 / 59.22.11
ziegler_welkenraedt@zieglergroup.com
It is worth keeping in mind that Ziegler Group operates a close-knit global network with 154 branches in more than 15 countries. In a further 80 countries, it cooperates closely with partner companies. This ensures close cooperation between the branches within a country as well as between countries. This results in a continuous exchange of experience, shared order processing, and division of tasks. This way, regardless of which Ziegler branch you contact, what industry or country you operate in, you can count on a comprehensive supply chain service and an offer that is always completely tailored to your needs.
Rail freight was historically the most popular form of goods delivery. With the growth of ocean freight and the introduction of air freight options, it is no longer usually the first choice of customers. But it's worth taking advantage of the benefits it offers, especially with the reduced capacity of sea and air transport.
With rail freight between China and Europe, we can offer a fast and reliable alternative to air and sea freight. You can benefit from high departure frequency, increased flexibility, and often shorter transit times compared to sea transport. Rail transport is also more cost-effective and offers greater capacity than air transport. It is also the most environmentally friendly of all transport solutions.
Get answers to the most frequently asked questions about rail transportation.
How many departures are there per week?
This varies depending on the country. Usually, there are several departures a week on specific days of the week (for example, in Belgium, there are three or four departures a week depending on the season). In other countries, departures are planned on an ongoing basis depending on seasonal demand. Your Ziegler consultant will be happy to provide you with all the details.
What kinds of goods are transported to and from China with rail freight?
Everything except dangerous goods can be transported this way.
Is it possible to transport with controlled temperatures?
Yes, rail freight offers temperature-controlled conditions.
What is the maximum volume that the trains can handle?
The maximum volume is 41×40 HQ per train (max. 23 tonnes per container).
What kind of cargo consolidation do you offer?
We offer both Full Container Load (FCL) and Less-than-Container Loads (LCL).
Are there any stops between the departure point in Europe and China?
Yes, for formal reasons, there are two border stops in Poland and Kazakhstan.
Is it also possible to carry rail transport to other countries in Asia?
At the moment rail transport is only available between Europe and China.
What is the transit time?
Usually around 16 days.
Is the Track and Trace option available for the customer?
Yes, goods are tracked by GPS and all data is updated daily.
If you're looking for economical and time-efficient transport for your goods, rail transport can answer your needs. Transit times are at least half those of ocean freight, and the price is often virtually the same. Contact a Ziegler rail-transport consultant and discover how rail freight can help your business.
With Frederick Van Glabeke from Tessutica, we talked about how interpersonal relationships, proactivity, accountability, and a lot of persistent work help overcome supply chain challenges during Brexit. 
Frederick Van Glabeke has worked in Tessutica – a part of Beaulieu International Group, a textile manufacturing company – since 1998. Over the years he has seen many changes in the company and its environment. He understands well the influence that his business partners and their relations with representatives on the company's operations, especially when it comes to operating in challenging circumstances. "Only when working with Ziegler do I always have a sense of total commitment – the feeling that they care," he says.
Five years ago, his company moved production from Belgium to Romania. It was then that the decision was made to look for cheaper supply chain cooperation options. Cooperation with other companies was established, but after many failures, the decision was made to again resume working with Ziegler.
"We returned to Ziegler because we needed a partner who knows what they are doing!' Frederick recalls.
"When working with Ziegler, things always just go smoothly. The contact you have with the company is also invaluable. You always know who you are talking to and you feel taken care of. Ziegler is a large group with operations all over the world and yet you never feel anonymous in your contact, there is that «small company» touch, a personal approach, and a committed person on the other end. Plus operational excellence – service, quick responses, problem-solving, and finding solutions together," he says.
Tessutica works mainly with the United Kingdom. It is their largest market. So the start of 2021 was a particularly stressful time for them. The uncertainty and formal complexities that Brexit brought with it were a significant challenge. Ziegler's experts helped the company manage the process as smoothly as possible.
"Across the Beaulieu International Group, we continue to work with other companies on supply chain services. And at the end of the last year and the beginning of this year, in the context of Brexit, we all noticed obvious differences in Ziegler's approach and capabilities compared to other companies. Only in the departments that were working with Ziegler was everything running smoothly – applications, stocking, customs, delivery…We were in awe, so noticeable was the difference," Frederick claims.
"Even if there are some stumbles, marginal though they may be, Ziegler always rises to the challenge and never shirks responsibility. We always find a way through every situation together. It is a matter of trust, and this is something we have in Ziegler," he adds.
The Chinese New Year – and the Year of the Ox – is just around the corner.
It is the most significant and the longest holiday in China celebrated also in a large part of Asia, what people celebrate the beginning of the new year with their families.
This new year will start the year of the Ox, which is a valued animal in Chinese culture. It stands for confidence, dependability, strength, and determination.
This year Chinese New Year 2021 falls on Friday, February 12th, 2021, and celebrations culminate with the Lantern Festival on February 26th, 2021. Celebrations last up to 16 days, and the first 7 days are considered a public holiday (February 11th–17th, 2021).
This national public holiday has consequences on global supply chains. For 2 weeks, the various European and Chinese ports will be impacted by a large influx of goods. Due to the festival, there will be a closing period for manufacturing industries. The Ziegler offices in China will be closed for the Chinese New Year holiday from 11.02 till and included 17.02.2021 (Hong Kong from 12.02 till 15.02), therefore, there will be no shipments from China for at least a week.
Nevertheless, we hope and will make every effort, that the celebration of this important holiday in Chinese tradition will not affect the smoothness of our operations and service to our customers.
On behalf of Ziegler, we wish you all a lot of health, strength, success, and a peaceful Year of the Ox.
The Special Request service officially premiered on January 14, 2021.
Special Request is a premium service offered by Ziegler Group, that mobilises a team of experts across varied fields of transport and logistics for your specific transport requirements. These highly specialised professionals are available on various communication channels 24 hours a day, seven days a week to respond immediately with personalised service to our customers' every need.
We understand that clients entrust Special Request's experts with their most valuable goods. This is why the core values of Special Request are confidentiality, discretion, superior quality, and security.
Each Special Request order is approached individually. We look after each order based on the customer's overriding needs related to the goods and services. The whole process is organised so that the client can be completely hands-off, knowing that their needs are being taken care off. We offer a comprehensive service, the components of which we select individually for the given situation, goods, and customer needs. This is possible thanks to the combination of Ziegler's more than 100 years of experience, and a team working together in a complementary and flexible startup style.
Visit our website and find out how you can benefit from the Special Request offer.
The constant desire to develop and continuously increase the quality of our services has recently resulted in Ziegler Morocco receiving two ISO 9001:2015 and ISO 28000:2007 certifications.
On December 24, 2020, CERTI-TRUST™ evaluated Ziegler Morocco according to the specifications for the ISO 28000:2007 management system and granted certification for the supply chain security management system.
ISO 28000 is based on a risk analysis of individual process elements (financial, manufacturing, information flow, etc.) covering requirements for, among other things, establishing, implementing, maintaining, and improving a supply chain security management system.
Ziegler Morocco is now one of only two companies in Africa certified with ISO 28000:2007!
On the same day, CERTI-TRUST™ also awarded Ziegler Morocco with ISO 9001:2015 certification related to customer service quality. The certification covers business areas related to transport commission, bonded warehouse management, and logistics-related activities.
In the Ziegler Group, we pay great attention to effective quality management and clear ethical standards, which are actively supported by all our teams. Respect for ethical principles and the values associated with them is the best guarantee that our company will continue to a place of positive development into the future for us all.
This is why we have introduced the Code of Ethics, designed with respect for the diversity of cultures represented within our Group, which will apply to our entire Group throughout the world.
Respecting the principles set out by this policy is a priority for us all and the responsibility of every Ziegler Group employee.
See Ziegler Group's Code of Ethics.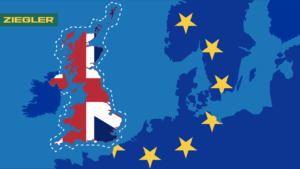 Anyone who deals significantly in trade between the UK and the EU has been waiting for the beginning of 2021 apprehensively. The transition period for the UK's participation in the European Union Customs Union and European Single Market ended on December 31, 2020, creating a new European reality. A reality made all the more problematic as it is fraught with insecurity and many question marks.
Until today, only some of the conditions for cooperation between the European Union countries and the United Kingdom have been definitively established, and there is still uncertainty about all applicable regulations or documents concerning imports and exports. The situation is changing very dynamically. Every day new agreements between the countries of the EU and the UK are being signed, and new regulations and rules are being introduced.
Trade, transport, logistics, customs, and tax management under these conditions is a great challenge. At Ziegler Group we have been working continuously for many weeks on solutions to enable the smooth flow of our customers' goods between the UK and EU countries. Ziegler's logistics expert groups in France, Belgium, the Netherlands, the United Kingdom, and other European countries work continuously to analyze changing regulations and to exchange knowledge and experience. These multinational team efforts help us to analyze regulations from different sources, compare agreements, and develop a coherent system of document circulation and procedures. Although with such a rapidly changing situation, it is difficult to establish procedures of any kind.
That is why we have appreciated our business flexibility and ability to adapt dynamically to new situations. We would like to assure you that within Ziegler Group we are doing our utmost to keep our knowledge of the regulations and required procedures related to import and export to the UK up-to-date, and are continuously adapting our solutions to match current regulations to provide you with efficient and effective services.
We are aware that there are still many efforts, challenges, and work to do ahead of us in this area. However, with our multinational teams working together to adapt and deliver the best possible solutions, we are confident we can help you navigate all your import/export needs between the UK and the EU in 2021. If you wish to consult us on anything relating to transport to or from the UK, please contact our experts at our European branches.
Belgium brexit_BE@zieglergroup.com
France brexit_FR@zieglergroup.com
Germany brexit.DE@zieglergroup.com
The Netherlands brexit_NL@zieglergroup.com
UK:
Durham Brexit_UK_Durham@zieglergroup.com
Gateway Brexit_UK_LondonGateway@zieglergroup.com
Bradford Brexit_UK_Bradford@zieglergroup.com
Warrington Brexit_UK_Warrington@zieglergroup.com
Tamworth Brexit_UK_Tamworth@zieglergroup.com
Northampton Brexit_UK_Northampton@zieglergroup.com
Newport Brexit_UK_Newport@zieglergroup.com
Peterborough Brexit_UK_Peterborough@zieglergroup.com
Portsmouth Brexit_UK_Portsmouth@zieglergroup.com
Please also visit our website where we share our current knowledge related to Brexit.
In English https://www.zieglergroup.com/brexit/
In French https://www.zieglergroup.com/brexit-fr/
In Dutch https://www.zieglergroup.com/brexit-nl/
In German https://www.zieglergroup.com/brexit-de/
We are grateful for your trust and understanding and believe that by continuing to work hand-in-hand on this topic we can work out optimal solutions.