Currently rebounding from the impacts of 2020, Morocco is one of the world's fastest developing markets. Over the past decade, Morocco improved by more than 50 places over its original position in the World Bank's Doing Business ranking.
In 2012, the Ziegler Group believed in the potential of this market, mainly due to its proximity to Europe, and decided to make concentrated efforts to further develop its services in Morocco by investing in a new building in Casa Blanca and by creating more connections and solutions for customers regarding trade between Europe and Morocco. 
Over the past years, Ziegler Morocco made great progress in facilitating additional trade with Europe. Cooperation between strategic hubs in Bordeaux, Paris, Rekkem and Lyon allows us to provide expertise and services between these locations.
With more than 30 employees, a combination of own trucks and subcontractors, Ziegler Morocco's facility offers a warehouse and storage area of 5,000 m2. We also have a secondary logistics warehouse of 4,000 m2.
Our most transported goods are imported goods such as food and pet foods but also pharmaceutical products or automotive parts. Currently, we are very active on the Ghent-Morocco line and have the capacity to manage transports of goods every Thursday along this lengthy route.
There is no set amount of departures per day, everything is scheduled according to groupage, but there are several arrivals and departures per week. Track and Trace visibility will be available soon.
Our employees' ability to speak both French and English is one of our major capabilities and gives us a key advantage regarding trade between both continents. We are certified in security management systems for our supply chain (ISO 9001 and 28000). In addition, we are currently working through the process of becoming an Authorized Economic Operator for the customs administration as well as the General Directorate of Customs.
Due to high costs and complex procedures, most companies shrink away from training their drivers and many carriers do not comply with the requirements for DGR goods. However, being organised and respecting rules as well as procedures creates added value and Ziegler Morocco is proud to be one of the few carriers that adhere to these high standards.
Although the effects of COVID-19 hit hard on the larger economy, Ziegler Morocco was not overtly affected due to their recent digitization initiatives and their high usage of Ziegler Group's tools. 
When considering a carrier, you should know that Ziegler Morocco was established in 1986 and was the first international carrier available in Morocco. We are a very family-friendly local establishment and share the same philosophy and company policy as every other Ziegler institute. We provide tailor-made solutions that not many other organizations can provide. Ziegler Morocco has a lot of flexibility and the experience needed to always look after our clients and to find solutions even when it does not seem possible.
Contact us for more information
Ziegler Group Unveils Cargo Bikes for Last-Mile Deliveries in Brussels.
On Friday, September 3, 2021, Diane Govaerts, CEO, and Alain Ziegler, President of the Ziegler Group, welcomed Elke Van den Brandt, Minister of the Government of the Brussels Capital Region, responsible for Mobility, Public Works, and Road Safety to the Ziegler Group headquarters in Brussels on the occasion of the official presentation and launch of the Ziegler's Cargo Bike XXL.
The event brought together some fifty personalities, including representatives of the City of Brussels, customers, and partners within Ziegler's network who are at the forefront of ecology and sustainable development and who can testify to the Group's ambitions in the field of renewable energy.
Diane Govaerts, first of all, cited the Group's initiatives to reduce its ecological footprint thanks to the "Ziegler – Now even Greener" program.
Johan De Brauwer, Country Manager of Ziegler Belgium – Luxembourg, explained that the idea of the Cargo Bike was born in November 2020 during a brainstorming session dedicated to the theme of last-mile delivery and sustainability, the premise being that vehicles intended for urban distribution should become smarter, cleaner, quieter and smaller in order to improve the quality of life of the city, its inhabitants and its businesses.
The Cargo Bike is an already well-known concept and the Group immediately wanted to distinguish itself from other logistics players by offering a Cargo Bike large enough to make many more deliveries in one day than a distribution truck.
Specially designed for Ziegler, the Cargo Bike XXL offers a payload capacity of 500 kg / 4.3 m3 in the form of a 6.5 m tri-bike and trailer.
On January 30, 2021, the project was presented to the Brussels Capital Region and the City of Brussels and received their enthusiastic support.
In June 2021, the first experiments were successfully launched from Ziegler's Brussels facilities, Vilvoordsesteenweg for distribution in the city center of Brussels.
From the outset, this pilot project aroused the interest of a large audience and generated high levels of engagement and support on social media.
In order to make even more stops and deliveries and to be closer to the city center, a partnership was established with the Interparking group to create the first microhub in the center of Brussels, in the Albertine parking lot near the Sablon. An electric truck shuttle connects the main platform with this microhub. From there, the Ziegler Cargo Bike operators load their trailers for their morning trip. In the afternoon, they return to load their second round.
In this way, the Cargo Bike XXL from Ziegler Group can make up to 50 stops a day, while a conventional distribution truck makes an average of only 25 stops a day.
Several Cargo BikesXXL will gradually be deployed in Brussels and the handling of small parcels will be entrusted to partner Urbike.
The Cargo Bikes XXL will also take the used packaging of the delivered goods which will then be sorted by Ziegler, always in line with Ziegler's sustainability strategy.
This concept will be replicated in other cities in Belgium, starting in Bruges, Knokke, and followed by Antwerp, Ghent, and Leuven. And then in many different European countries where Ziegler Group is based.
With the Cargo Bike XXL, Ziegler intends to contribute to smart and more sustainable urban logistics The slogan "Ziegler – Now even Greener" has never been more relevant.
During the horrific floods that struck Wallonia in Belgium, the efforts by the Red Cross to get aid and basic necessities to the residents were supported by Ziegler Welkenraedt, located only a few kilometers away from the affected area.
When disaster struck, the branch manager of Ziegler Welkenraedt – Mr. Jean Luc Cobus – volunteered their storage areas for the relief efforts. The proximity of Ziegler Welkenraedt to the town of Liège made it ideal for the Red Cross to stage and deliver supplies quickly.
The Red Cross was able to use the facilities over the course of over a month and still going on, and Ziegler Welkenraedt found yet another way to help. Some Ziegler clients had stock in the warehouse with many products that could be very helpful for the relief efforts. There were pallets of soap, laundry detergents, and other products being stored on behalf of their clients.
So the staff of Ziegler Welkenraedt called clients to explain the situation and ask for help by donating some of their stock that could be used to help the citizens of the affected areas.
Thanks to generous clients who immediately agreed to donate products, the Red Cross volunteers together with the staff at Ziegler Welkenraedt ensured that those affected by this tragedy were able to get essential items they needed.
"Ziegler Company helped us out by volunteering a storage area at our disposal. Thank you also to the Ziegler team, who despite their daily work, was very helpful. This is a great gesture of humanity on your part." Linda Hermanns – Food Bank of the European Red Cross.
Although we are all responsible to work together to reduce emissions and improve the environment, changes that logistics companies can make are especially significant due to the nature of our industry. As technologies are developed that make it possible for us to make those changes, we are determined that Ziegler Group will be at the forefront of our industry in this area.
We strongly believe that small, everyday actions such as reducing office paper consumption are just as vital as the large undertakings regarding fleet investments and company infrastructure.
This is why we have launched the 'Ziegler. Now even greener' program. By integrating our environmental initiatives, we can transform our organization more seamlessly and efficiently while multiplying the positive effects for the environment, our people, and our company.
We're proud of the progress we've made, and we thank everyone who has somehow facilitated, encouraged, and contributed to these activities. But, this is just the start of the transformation we envision. We will accomplish much more together!
We would like to introduce the Ziegler Sustainability Report, which gives an overview of how Ziegler Group is currently taking specific actions to make positive contributions to the environment.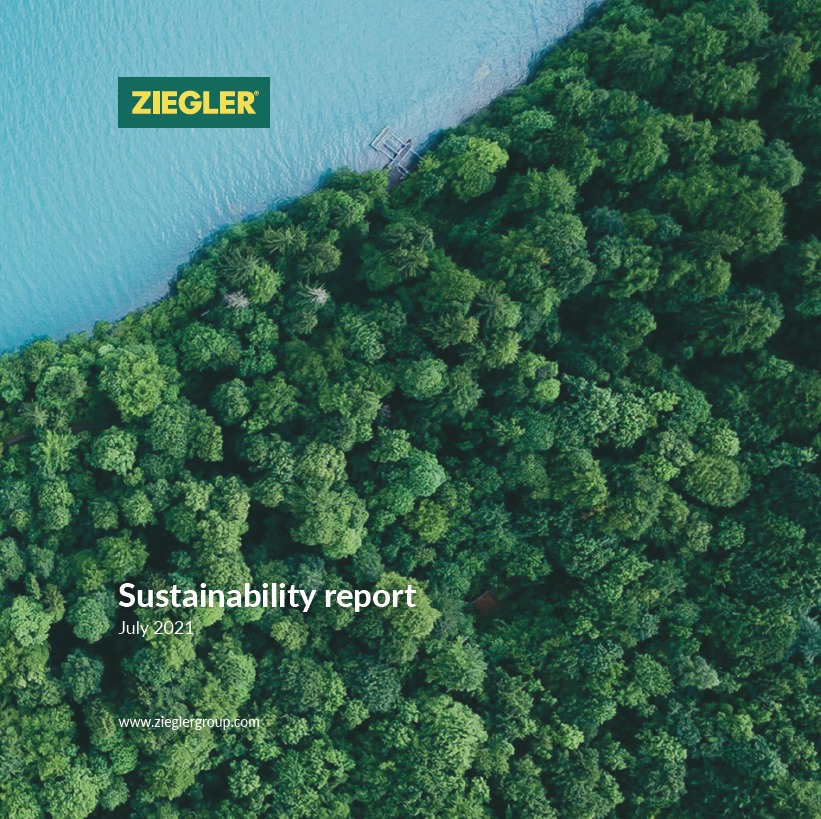 Welcome onboard
We always ask ourselves how Ziegler can help with your logistics to keep you always one step ahead of your competitors. We align our services and company strategy to this goal.
With ZIEGLER ONE, the Ziegler Group has now reinvented the international networking of logistics partners. An independent, global network of actors is currently being created. This includes logistics companies, as well as insurance companies and payment service providers.
What does that mean for you?
better performance from trade routes
guaranteed shipping volumes
optimised freight rates
better margins
Stay ahead of the competition in your industry – we're pleased to pitch in with the logistics. Find out more in this edition of onboard.
With best wishes for your health and success
Thorsten Witt
CEO – Ziegler Switzerland & Germany
---
Previous editions:
2020
Onboard, edition autumn/winter 2020
2019
2018
2017
In the decades that followed the Battle of Sedan which was fought during the Franco-Prussian War in 1870, the world was very different than it is today, and many things were changing. Railways had just first appeared, electronic lighting did not exist and transportation, as we know it today, had not entered people's imagination.
After completing his business studies and military service, Arthur Joseph Ziegler was gaining experience in the transportation industry. A visionary from the start, he never stopped dreaming of seemingly impossible developments that he imagined could be achieved in this industry. These dreams brought him to Brussels where, on 15 March 1908, he founded the Ziegler Company.

If  Joseph Arthur could see how Ziegler Group looks today, he would surely be both amazed and delighted.

More than 112 years of constant development and pushing forward has made the Ziegler Group today a worldwide freight and logistics service provider offering the whole spectrum of services – packaging of goods, road, rail, sea, air and inland waterway transport, logistics, customs clearance, e-commerce, and other value-added services.
Today, we employ more than 3,200 employees worldwide and operate a close-knit global network with 154 branches in more than 15 countries.
Nevertheless, we remain a family business, based on strong family roots, whose most valuable resources are our people and the close relationships we make.
Strong internal relations and close cooperation with our partners, added to the completeness of our offer allows us to stay flexible and offer tailor-made services. This differentiates us from other large global transport groups and allows us to provide customized solutions instead of inflexible off-the-shelf solutions.
We focus on quality, not quantity, to help you achieve your goals.
We listen and understand because we want to exceed your expectations.
We care because we honor our core values:
Authenticity
Entrepreneurship
Expertise
Reliability
FR, DE & NL SUBTITLES AVAILABLE. Click on settings ⚙️ to enable subtitles or change the language.
Robod S.A. is a part of the international Rubix group and has been operating on the Polish market for over 20 years.  It delivers the highest quality personal protective equipment for companies and their employees.
Last year, when Rubix was looking for new partners to organise their logistics in Poland, Ziegler answered their needs best, and a fruitful cooperation started.
Ziegler organizes the entire logistics process for Robod in a warehouse in Piotrków Trybunalski with an area of about 1500 m2. From receiving the goods, verification, unloading and storage, through the entire logistics process of collecting shipping orders, preparing these orders and documentation, and shipping the orders for the final customers.
"On behalf of our client, we ship approximately 100-150 packages per day throughout Poland and Europe, starting from envelopes to entire pallets," explains Pierre Henry, Managing Director of Ziegler Poland.
The cooperation between the Ziegler Group and the Rubix Group took on particular importance during the 2020 pandemic when it became critical to equip employees with special personal protective equipment. Time was a major challenge, but Ziegler Group collaborated with Robod to get the right supplies to Europe quickly and to distribute them properly. The situation required cooperation, flexibility, and mutual trust, which are still extremely important to us today.
"We sell personal protective equipment that ensures the daily safety of employees. It is a special challenge for us. It is a big responsibility," says Adam Opalach, Head of Purchasing at Robod S.A. "That's why excellence at every stage of the process is so important to us."
Ziegler realizes that it is dealing with a specific industry, operating on behalf of a client whose goal is not to sell as much as possible, but who is more of an advisor to their customers. We see how much importance they put on the quality of all their processes and how much responsibility they take for their actions. That's why we don't stop at trying to exceed expectations with the quality of service we provide.
"Ziegler offers us a very high quality logistics service, which is particularly important in our sense of responsibility, which is an overriding value for us, not an empty slogan," emphasizes Adam. "Ziegler is open to all suggestions and ideas. There is no template to follow and copy between clients. On the contrary, at Ziegler, non-standard or out-of-the-box solutions can become real. And that is very important," he adds.
When exporting or importing goods, sooner or later you are always confronted with the term 'Incoterms'. Many customers already know and understand it very well while some have only heard of it recently. However, there are also those who have less experience with trading goods and may not understand these industry-specific symbols and do not know how to read them.  Let's dive in and make sense of these so we can understand which options are best for your situation.
'Incoterms' is the abbreviation for 'International Commercial Terms', which are the set of international rules that define the terms of sale and are accepted and applicable worldwide. These rules define the cost and responsibility breakdown between buyer and seller and reflect the type of transportation that is agreed upon.
Incoterms were first published in 1936 and have since been revised several times. The most recently published version is Incoterms 2020.
The rules, as currently formulated, apply in both international and domestic commercial settings.
Incoterms 2020 rules clarify who is responsible for specific costs and stages of transport (loading, unloading, insurance, etc.) Each set of rules is identified by a three-letter abbreviation.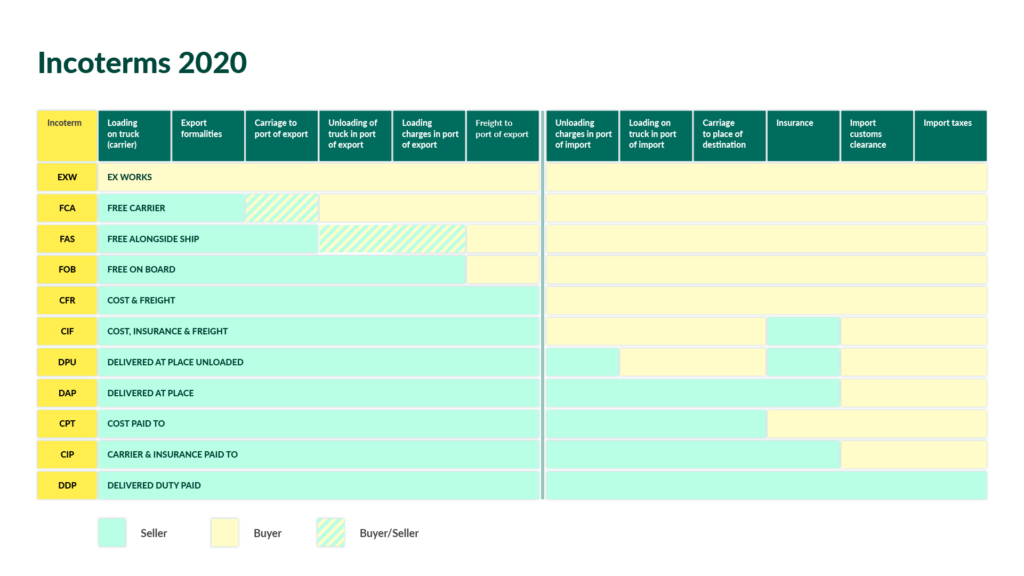 Now to explain the specific stipulations each rule below:
EXW (Ex Works) – applies to any form of transportation. Compared to other Incoterms, here the seller has the fewest obligations. Delivery is considered to have been completed when the goods are deposited at the place agreed on by the buyer. From then on, the buyer is responsible for arranging further collection, loading, unloading, transportation and all import, export and transit procedures.
FCA (Free Carrier) – applies to multimodal transport. The seller is responsible for the goods and related costs until they are delivered to the designated place of unloading and handed over to the carrier for unloading. Responsibilities and costs related to unloading, loading, shipping, insurance, customs and tax formalities are covered by the buyer.
FAS (Free Alongside Ship) – applies to inland and sea transport only. In this agreement, the buyer takes responsibility for all costs and risks associated with the transport of the cargo from the moment the goods arrive at the side of the ship. This means that the seller is not obliged to organize the loading of the goods onto the ship, and the buyer is responsible instead.
FOB (Free on Board) – used only in inland waterways and ocean transportation. Extends the seller's responsibility under the FCA rule to include loading onto the ship. From the moment the goods cross the ship's side, all costs, risks, and insurance issues are passed to the buyer. FOB is the most popular Incoterms rule for imports from China.
CFR (Cost and Freight) – CFR is implemented only for sea and inland waterway transportation. The seller is responsible for the goods and costs until the goods are delivered to the port of destination. Unloading, further loading, delivery to final destination, insurance, import costs and customs and tax formalities are the responsibility of the buyer.
CIF (Cost, Insurance and Freight) – applies to sea or inland waterway transportation. The rules are very similar to CFR, however the cost and responsibility of insurance is transferred here from the buyer to the seller (until the goods reach the port of destination).
DPU (Delivered at Place Unloaded) – this rule replaced DAT from Incoterms 2010. It applies to all forms of transport. DPU requires the seller to unload the goods at the destination port. However, further loading and delivery to the final destination as well as import costs and customs and tax formalities are the responsibility of the buyer.
DAP (Delivered at Place) – may refer to various forms of transportation. The seller is responsible for the goods and associated costs until they are transported to the designated location. Clearance costs and import tax are the responsibility of the buyer.
CPT (Carriage Paid to) – can be used for multimodal transport, combining several types of transport. The seller is obliged to bear the costs of transportation of goods to the specified destination. On the other hand, the buyer is responsible for insurance, import costs and customs and tax formalities.
CIP (Carriage and Insurance Paid) – this rule is used in multimodal transportation. The seller takes responsibility for the goods up to the final destination and also pays for insurance up to that point. The buyer, on the other hand, is responsible for meeting import duties and taxes.
DDP (Delivered Duty Paid) – applies to any type of transportation. In this scheme, the greatest responsibility and cost, including insurance and duty, is the responsibility of the seller.
Depending on what the buyer's and seller's needs are in this regard, appropriate Incoterms rules are selected for each transaction. The choice should take into account pricing, logistical requirements, and the willingness of each partner to bear different costs.
Ziegler consultants are always happy to advise you on choosing the best Incoterms for your company and specific transactions. Contact us and discover what we can offer you.
Diane Govaerts in an interview with Saskia Vanderstichele for BRUZZ Magazine on the background of the Ziegler Group, the challenges we faced in the coronavirus pandemic, our green solutions, and drive toward growing more and more sustainable.
"At Ziegler, we undertake various activities, all our new buildings are passive or almost passive, we segregate waste, print less, meet more frequently on the Internet, and rent bikes to our employees…"
Read more here: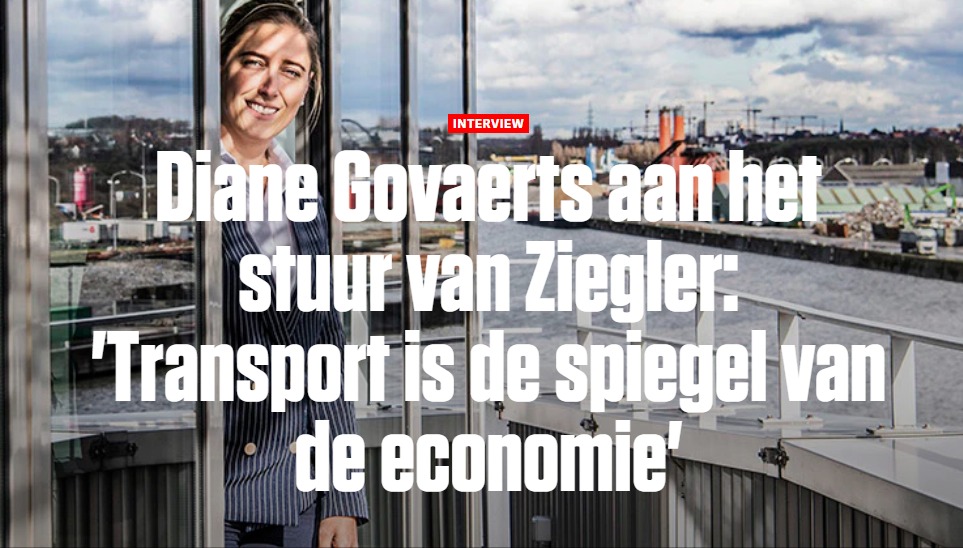 Bruzz n° 1758 of 16-06-2021
A revolutionary, eco-friendly freight solution for Brussels.
With city centers throughout Belgium increasingly restricted to larger vehicles, Cargo Bikes are the future for urban delivery vehicles. Cargo Bikes are being welcomed with open arms by cities across Europe and the Ziegler Group is actively involved in introducing this solution, starting with Brussels.
Cargo Bikes – More efficient in city centers and pedestrian zones!
No traffic jams
Zero emissions
Less road wear
Ziegler's extra-long Cargo Bikes are already in operation in Brussels. The total length is 6 meters, and the trailer length is 3.6 meters with a maximum load capacity of 500 kilos.  Over the coming months, ten bikes of varying capacities will start performing last-mile deliveries in the Brussels city center.
How does it work?
Cargo Bikes fit into Ziegler's existing distribution network with only a few specific changes. Delivery trucks bring pallets and packages to microhubs that are positioned around the city center. From these microhubs, the cargo bikes deliver goods into city center areas that have traffic restrictions. The bikes are equipped with track-and-trace, and deliveries to customers are done just like any other delivery.
Cargo Bikes allow our delivery services to make 25 stops in only two hours!
What kind of goods can such a vehicle deliver?
Cargo bikes can safely and efficiently transport various types of goods including, but not limited to: industrial goods, packages or pallets, dry food products, alcohol, clothing, and even products requiring temperature-controlled transport.
Ziegler Group is excited for the future of sustainable city transport, and Cargo Bikes will be playing a significant role in that future. Until relatively recently, existing road infrastructure did not make Cargo Bikes practical in big cities. But that is changing very quickly, not only making Cargo Bikes feasible but essential to the future of sustainable city transport.
It's exciting to see how all involved parties are recognizing the positive impact that the Cargo Bike project represents. This is another crucial step that will make our cities less crowded and reduce the environmental impact of transport.
Learn more and order your Cargo Bike transport!
Phone: +32 02 422 2197
E-mail: cargobikebrussels@zieglergroup.com