Ziegler was founded 113 years ago in Brussels, Belgium. Since then, a lot has changed. The company has grown and developed. Ziegler now has branches in more than 15 countries. Belgium, however, is still where the headquarters is located as well as the operational activities of several branches.
Learn more about the characteristics and specialization of some of the Ziegler branches in Belgium.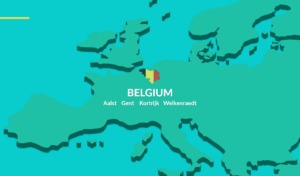 Ziegler Aalst
Ziegler Aalst serves customers in a wide variety of industries including fashion, food, automotive and technical industries. It also helps with transporting goods such as textiles, food, clothing, lingerie, and wine on a daily basis. They transport goods mainly between southern Europe and Belgium. You can count on their daily arrivals and departures in Spain and Italy and at least two departures a week to Portugal and Greece. Ziegler Aalst has its own fleet of 50 trucks which are all equipped with loading ramps.
The wide variety of customer industries served by this branch has resulted in a high level of flexibility in the ability to adapt the warehousing conditions to the needs of each customer.
Contact:
Wijngaardveld 3
9300 Aalst
+32 053 / 78.71.72
jean-pierre_caignau@zieglergroup.com
Ziegler Kortrijk
Ziegler Kortrijk is known for their daily shipments for groupage, FTL, and LTL to France, Switzerland, and Italy thanks to a combination of direct back and forth transports and an extensive network of freight correspondents.
They cooperate with companies in a wide variety of industries, from heavy industrial machinery, general machinery, and machine parts for medical equipment, through to wood, glass, construction, and textile products. They also have extensive experience in transporting chemicals and hazardous materials as well as storage and full logistics services of these products. The warehousing solutions are always tailored to the needs of the product and the customer.
Contact:
Transportcentrum LAR – Blok B1
8930 Menen-Rekkem
+32 56 / 43.12.20
ziegler_kortrijk@zieglergroup.com
Ziegler Gent
Besides regular departures to Eastern Europe and Scandinavia, Ziegler Gent has the most frequent transport operations with the UK and Ireland, which is still true in 2021. Even now after Brexit you can benefit from their daily road departures to the UK and export/import for groupage, LTL, and FTL.
Ziegler Gent is equally experienced in the transportation and storage of harmless and dangerous chemicals, machinery, textiles, and medical devices.
They also offer dedicated supply chain solutions for their partners.
Contact:
Wiedauwkaai 7
9000 Gent
+32 09 / 264.08.11
Ziegler Welkenraedt
Ziegler Welkenraedt specializes in supply chain management for companies mainly in the construction, manufacturing, clothing, and automotive industries. They transport nearly all types of goods with the exception of chemicals and dangerous goods. Their own fleet, including special vehicles such as carriers and seedlings with tailgates, and almost a hundred employees at the branch enable them to offer daily departures for groupage, LTL, and FTL within Belgium and to other European countries.
Contact:
rue Mitoyenne 897
4840 Welkenreedt
+32 087 / 59.22.11
ziegler_welkenraedt@zieglergroup.com
It is worth keeping in mind that Ziegler Group operates a close-knit global network with 154 branches in more than 15 countries. In a further 80 countries, it cooperates closely with partner companies. This ensures close cooperation between the branches within a country as well as between countries. This results in a continuous exchange of experience, shared order processing, and division of tasks. This way, regardless of which Ziegler branch you contact, what industry or country you operate in, you can count on a comprehensive supply chain service and an offer that is always completely tailored to your needs.