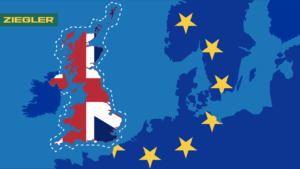 Anyone who deals significantly in trade between the UK and the EU has been waiting for the beginning of 2021 apprehensively. The transition period for the UK's participation in the European Union Customs Union and European Single Market ended on December 31, 2020, creating a new European reality. A reality made all the more problematic as it is fraught with insecurity and many question marks.
Until today, only some of the conditions for cooperation between the European Union countries and the United Kingdom have been definitively established, and there is still uncertainty about all applicable regulations or documents concerning imports and exports. The situation is changing very dynamically. Every day new agreements between the countries of the EU and the UK are being signed, and new regulations and rules are being introduced.
Trade, transport, logistics, customs, and tax management under these conditions is a great challenge. At Ziegler Group we have been working continuously for many weeks on solutions to enable the smooth flow of our customers' goods between the UK and EU countries. Ziegler's logistics expert groups in France, Belgium, the Netherlands, the United Kingdom, and other European countries work continuously to analyze changing regulations and to exchange knowledge and experience. These multinational team efforts help us to analyze regulations from different sources, compare agreements, and develop a coherent system of document circulation and procedures. Although with such a rapidly changing situation, it is difficult to establish procedures of any kind.
That is why we have appreciated our business flexibility and ability to adapt dynamically to new situations. We would like to assure you that within Ziegler Group we are doing our utmost to keep our knowledge of the regulations and required procedures related to import and export to the UK up-to-date, and are continuously adapting our solutions to match current regulations to provide you with efficient and effective services.
We are aware that there are still many efforts, challenges, and work to do ahead of us in this area. However, with our multinational teams working together to adapt and deliver the best possible solutions, we are confident we can help you navigate all your import/export needs between the UK and the EU in 2021. If you wish to consult us on anything relating to transport to or from the UK, please contact our experts at our European branches.
Belgium brexit_BE@zieglergroup.com
France brexit_FR@zieglergroup.com
Germany brexit.DE@zieglergroup.com
The Netherlands brexit_NL@zieglergroup.com
UK:
Durham Brexit_UK_Durham@zieglergroup.com
Gateway Brexit_UK_LondonGateway@zieglergroup.com
Bradford Brexit_UK_Bradford@zieglergroup.com
Warrington Brexit_UK_Warrington@zieglergroup.com
Tamworth Brexit_UK_Tamworth@zieglergroup.com
Northampton Brexit_UK_Northampton@zieglergroup.com
Newport Brexit_UK_Newport@zieglergroup.com
Peterborough Brexit_UK_Peterborough@zieglergroup.com
Portsmouth Brexit_UK_Portsmouth@zieglergroup.com
Please also visit our website where we share our current knowledge related to Brexit.
In English https://www.zieglergroup.com/brexit/
In French https://www.zieglergroup.com/brexit-fr/
In Dutch https://www.zieglergroup.com/brexit-nl/
In German https://www.zieglergroup.com/brexit-de/
We are grateful for your trust and understanding and believe that by continuing to work hand-in-hand on this topic we can work out optimal solutions.